Winners of the 2017 Pauline Alderman Awards for Outstanding Scholarship on Women in Music
 The International Alliance for Women in Music is pleased to announce the recipients of the Pauline Alderman Awards for Outstanding Scholarship on Women in Music for 2017.
The Pauline Alderman Awards were founded in 1985 by the International Congress on Women in Music to honor the memory of pioneering musicologist Pauline Alderman, Ph.D. (1893–1983), founder and chair of the Music History Department of the University of Southern California. Past winners include some of the most distinguished scholars writing about women and music.
Authors submitted articles and book-length works published in 2015 and 2016 for adjudication by respected scholars. We regret that restructuring within IAWM led to a delay in announcing the winners of the 2017 Awards.
We were very impressed with the overall quality of submissions. Four were considered truly outstanding: we have therefore decided, in addition to the book and article prizes, to award two runner-up prizes (for a dissertation and a reference work, respectively), as follows:
* * * * *
Runner-up prize for reference work:
Judith Barger
Music in The Girl's Own Paper: An Annotated Catalogue, 1880-1910, Routledge, September 2016.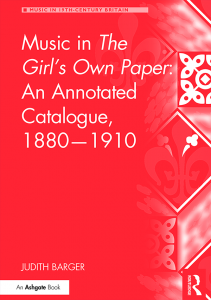 Nineteenth-century British periodicals for girls and women offer a wealth of material to understand how girls and women fit into their social and cultural worlds, of which music making was an important part. The Girl's Own Paper, first published in 1880, stands out because of its rich musical content: this is a catalogue of the musical content found in the weekly and later monthly issues during the magazine's first thirty years, in music scores, instalments of serialized fiction about musicians, music-related nonfiction, poetry with a musical title or theme, illustrations depicting music making and replies to musical correspondents.
The adjudicator praised the originality of this work, which is "extensively and thoughtfully researched, with clear and methodical structure," and describes the work as "an outstanding achievement. … The book gives an insightful look into what British women from that period were reading, and, by the sheer depth of the catalogue, shows that music was an integral part of the lives of 19th-century women."
Biographies for winners of the 2017 Pauline Alderman Awards
Judith Barger is an independent scholar who holds PhDs in both musicology (Indiana University) and nursing (University of Texas). A musician from a young age, she continued to sing and to play the organ during her 20-year career as a United States Air Force nurse. After completing her military service, she returned to school to study music. Dr. Barger is the author of three books – Elizabeth Stirling and the Musical Life of Female Organists in Nineteenth-Century England (Ashgate 2007), Beyond the Call of Duty: Army Flight Nursing in World War II (Kent State University Press 2013) and Music in The Girl's Own Paper: An Annotated Catalogue, 1880–1910 (Routledge 2016). Her current research focuses on the nurse character in opera. She lives in Little Rock, Arkansas.
Excerpt from IAWM Press Release
23 June 2020