Elizabeth Stirling
(26 February 1819 – 25 March 1895)
Many years ago when researching Samuel Wesley and the introduction of Bach's organ music into England, I came across the name of Elizabeth Stirling in connection with a recital she gave of Bach's major organ works at Saint Katherine's, Regent's Park, London in 1837. The critic for the Musical World praised the "extraordinary, almost unrivalled talent" of the eighteen-year-old recitalist, "received with general astonishment," and added: "We hope to see justice done to Miss Stirling. The prejudice against lady organists cannot remain, with such an example opposed to it." 1 My desire to learn more about this remarkable organist with an apparently phenomenal pedal technique led to doctoral research culminating in my book Elizabeth Stirling and the Musical Life of Female Organists in Nineteenth-Century England (Ashgate 2007).
At age twelve Stirling began organ lessons with William B. Wilson in Greenwich, where she was born and raised. When her family moved to Poplar a year later, she continued her organ studies with Edward Holmes, organist at All Saints Poplar, where Stirling later held the organist post beginning in 1839. Stirling studied harmony privately with James Alexander Hamilton and with George MacFarren and in 1856 aspired to an Oxford degree in music denied her because no precedent existed for awarding a degree to a woman. Stirling nevertheless continued her music career and was remembered in the Church Musician shortly after her death as "the only lady organist who ever got near 'front rank' excellence." 2 She was elected organist of Saint Andrew Undershaft in the City of London in 1858, married Frederick Albert Bridge in 1863, collaborated with him on popular entertainments as pianist, was actively involved as organist for the popular Tonic Sol-fa Association, and began composing for voice and for organ. Her part song "All among the Barley" was widely sung throughout the British Isles. Her Six Pedal Fugues and Eight Slow Movements for organ were much publicized and apparently played by England's organists. Both collections are available in modern editions edited by Barbara Owens (Belwin-Mills 1984) and by Barbara Harbach (Vivace 1995). Stirling's organ works, which show the musical influence of Bach and Mendelssohn, were favorably reviewed and put her in the vanguard of England's modern composers for the organ, securing her legacy, however modest, in music.
Although the best known "lady organist," Stirling was one of hundreds of women in nineteenth-century England who served as organists in England's churches throughout the nineteenth century despite a number of churches that declared "ladies not eligible" for the position. Their accomplishments are an inspiration to organists who followed in their footsteps.
Until recently, the only known photograph of Stirling, taken by her husband who had started a photographic business in 1870, appeared in an obituary printed in The Musical Herald. 3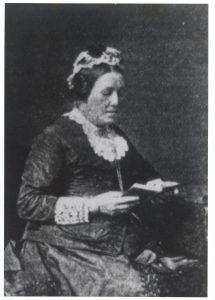 In December 2018, I received a copy of a photograph of a woman organist, which organist Stephen Best sent in hopes that I could identify her. He had purchased the photograph-postcard from a person who did not know where he had found it. Comparison of the two photographs suggest that Best's photograph is indeed of Elizabeth Stirling, most likely on the organ bench at Saint Andrew Undershaft where she held the organist post from 1858 to 1880.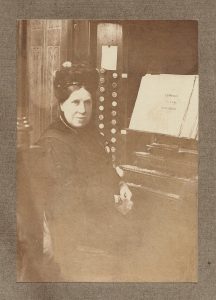 Notes
1 "Organ Performance,"' Musical World 6 (1837): 174.
2 "Elizabeth Stirling," Church Musician 5 (1895): 86.
3 "Elizabeth Stirling," Musical Herald no. 566 (1895): 149.