In Memoriam
World War II Army Flight Nurses
Jenevieve (Jenny) Boyle Silk, who died in June 2017, was the last living of the 25 World War II US Army flight nurses whom I interviewed in 1986 for what became Beyond the Call of Duty: Army Flight Nursing in World War II. I clearly remember each of my interviews with these remarkable women and still can picture them and hear their voices when I think of them.
Twenty of these interviews are now digitized and available as audio recordings on the Imperial War Museum website. Access the interviews here:
https://www.iwm.org.uk/collections/search?query=judith+barger&filters%5BwebCategory%5D%5BSound%5D=on&pageSize=&pageSize=
My short remembrances are in the order in which I interviewed these former flight nurses.
Ivalee (Lee) Holtz, 1916–1992
801 MAES, Pacific
Lee (Ivalee) HOLTZ (University of Texas School of Nursing, Galveston, 1942) entered the military in 1942 after Pearl Harbor was attacked, with the intention of being a flight nurse. Arriving at her first duty assignment at Hammer Field in Fresno, California, she applied for flight nurse training immediately and worked as a psychiatric nurse for a year before her orders for Bowman Field came through. She graduated from the flight nurse course on 26 November 1943. Holtz was assigned to the 801 MAES with duty assignment in the Pacific; her squadron replaced the original members of that squadron who were rotating back to the United States in 1944.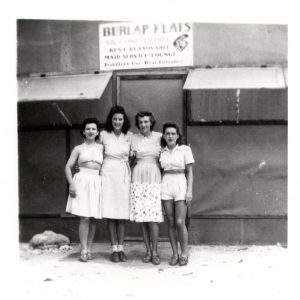 Lee (second from right) in front of flight nurse quarters on Biak.
(Author's private collection)
After relying on written notes for my first three interviews, I was delighted when Lee agreed to talk on tape. Friendly and easygoing, Lee clearly enjoyed her work as a flight nurse during the war and shared fond memories of many experiences. She had learned not to let the inconveniences of wartime living upset her and to make the most of what she had to work with as far as patient care and personal comfort. Once I realized that the tape was running and I needn't take notes, I sat back and enjoyed the interview with an obvious enthusiasm for what Lee was sharing about her time as a flight nurse. I learned that an interview could be both informative and enjoyable. Like Alice Krieble, Lee stayed in the military after her assignment as a flight nurse had ended. She retired as a lieutenant colonel in the US Air Force and died in 1992 at age 75.
To listen to my interview with Lee Holtz, click on the link:
https://www.iwm.org.uk/collections/item/object/80011350
Interviewed 4 April 1986, San Antonio, TX
Learn more about my interview with Lee on the Blog for 30 Aug 2015.
To be continued