In Memoriam
World War II Army Flight Nurses
Jenevieve (Jenny) Boyle Silk, who died in June 2017, was the last living of the 25 World War II US Army flight nurses whom I interviewed in 1986 for what became Beyond the Call of Duty: Army Flight Nursing in World War II. I clearly remember each of my interviews with these remarkable women and still can picture them and hear their voices when I think of them.
Twenty of these interviews are now digitized and available as audio recordings on the Imperial War Museum website. Access the interviews here:
https://www.iwm.org.uk/collections/search?query=judith+barger&filters%5BwebCategory%5D%5BSound%5D=on&pageSize=&pageSize=
My short remembrances are in the order in which I interviewed these former flight nurses.
Denny (Denzil) Nagle (1915–2015)
815 MAES, Europe
Denny (Denzil) NAGLE (Indianapolis City Hospital School of Nursing, 1940) worked first at a small county hospital, then applied for public health training at Peabody College in Nashville before returning to Indiana, where she worked in public health until war was declared. When Denny heard about air evacuation, she thought, That's what I'm going to try to do, so she applied for flight nurse training. She arrived at Jefferson Barracks, MO a month before Ethel Carlson arrived. After about nine months, Denny was sent to Bowman Field, KY, where she graduated from the flight nurse course on 21 January 1944; Ethel was a class mate. Denny remembered the training as "really rough" but said she never felt better than she had with all that exercise. Denny and Ethel were assigned to the 815 MAES after graduation and were sent to England to await D Day.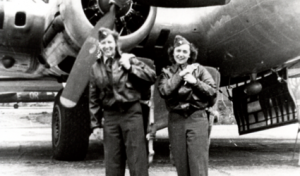 Denny Nagle (left) and flight nurse colleague. (Author's Private Collection)
Denny was quiet and reserved, but her twinkling eyes suggested her warmth and friendliness. It was more a desire to help than a vast store of memories that led to the interview. She often glossed over events, rather than give her own perceptions of them, and to fill in the details, she gave me a five-page typed account of her experiences as a flight nurse that she had written shortly after the war. One vivid memory did come to mind, however. Not long after the invasion of Belgium and Holland, Denny and her medical technician were sent on a special mission to Brussels to air evac patients out on two planes. When their plane landed that night, it ran off the runway and tipped over on the wing just enough to touch it. No real damage was done, but it and the other plane had to be checked the next morning, so the crew stayed overnight. Denny thinks she may have been the only American woman in "this back door Metropolis of the Holland invasion", amid a "milling mass of troops" and gathering of glider pilots awaiting transportation back to England. To her "it came nearer to realization of war and strain and what our boys were going through than one cares to remember". She concluded: "Next morning as we left the air strip, overloaded and flax [sic – she meant flak] holes in bottom of ship, our flight for safe return appeared in hands of something more than pilot or the plane." Denny died in 2015 at age 100.
To listen to my interview with Denny Nagle, click on the link:
https://www.iwm.org.uk/collections/item/object/80011356
Interviewed 23 May 1986, Cocoa Beach, FL
Learn more about my interview with Denny on the Blog for 8 May 2016.
To be continued