The Aerial Nurse Corps of America
Part 8
Flight nursing in the United States Army Air Forces had become a reality when the 802nd Medical Air Evacuation Transport Squadron left Bowman Field, Kentucky on Christmas Day 1942 for flying duty overseas in North Africa. Lauretta Schimmoler's Aerial Nurse Corps of America (ANCOA), however, never really "got off the ground". Despite Schimmoler's pronouncement to ANCOA member Leora B. Stroup in January 1942 that "ANCOA shall never die," the organization apparently did die a slow death after the outbreak of World War II when, as part of the national defense program, civilian aircraft were removed from the west coast to inland bases, thus eliminating ANCOA training flights, and a hold was placed on air shows. 1 ANCOA nurses who were by regulation members of the American Red Cross First Reserve were mobilized for active duty with the military. Some of them, including Stroup, served with distinction as flight nurses with the Army Air Forces – some one hundred of them, according to an uncorroborated newspaper account. 2 Schimmoler, in her early forties by then, was past the age limit for government flying in the WASP [Women Airforce Service Pilots] program. 3 By Schimmoler's account, she was apparently recommended for an appointment in the WAAC [Women's Auxiliary Army Corps] prior to June 1942 but chose not to consider it, because she was completing a course on aircraft engines and was holding out for civilian rather than military wartime service. 4 Not being a nurse, military flight nursing was not an option for her.
In fact, the closest Schimmoler came to being a flight nurse was on the big screen with the 1942 release of "Parachute Nurse", a Columbia Pictures film for which she was technical director. In this wartime melodrama, nurses are in training for a newly formed corps of parachute nurses to be dropped at sites inaccessible to medical care. Schimmoler was cast in the role of Jane Morgan, Commander of the Parachute Corps, "a very efficient, good-looking, plump, graying, motherly sort of woman, with a hardboiled exterior and a heart as big as her frame, which is ample". 5 Sixty-two ANCOA members of Los Angeles Company A, First Division were used in the marching scenes. 6 Schimmoler's personal correspondence suggests that she dreamed of follow-on movie contracts as a character actress, based in part no doubt on the "One-Take Schimmoler" moniker she won when scenes in which she appeared did not have to be retaken several times as is often the case. 7 The Hollywood Reporter did not ensure Schimmoler's potential success in Tinsel Town, however, when in its review of "Parachute Nurse" she was included only among those nameless others having "lesser chances to score". 8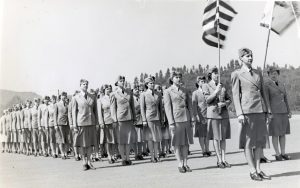 Marching scene from movie Parachute Nurse [USAF Photo]
Careful not to imply that the story was based on an actual military unit, the Foreword to the film stressed,
This story is pure fiction, but the idea is real and vital. There are no Parachute Nurses attached to the Army today, there are none doing the actual training in jumping, but there is a Paranurse Division of the Medical Department of the Aviation Emergency Corps and the part these Paranurses may play in the defense of and aid to the United States may make the fiction of today the reality of tomorrow.
To the gallant women now engaged in the formation of this Division, this picture is affectionately and respectfully dedicated. 9
Off the movie set, Schimmoler had researched the idea of parachute nurses as a possible opportunity for ANCOA but, as she told RN magazine, "even with the present war developments, it seems unnecessary for women nurses to run the risks of being dragged in rough terrain, of being impaled in a tree, in landing in water, or of suffering some other casualty". 10 She then hinted of the movie soon to be released: "No doubt in coming months there will be publicity stunts built around the idea of parachute nurse – perhaps even a movie featuring them, but it seems to me that it will only be practical to train parachute nurses when there is an actual shortage of manpower." 11
After her film debut, with ANCOA no longer a viable civilian organization, Schimmoler closed her offices in Burbank, turned her clerical staff over to the War Operations Center of the Los Angeles County Sheriff's Department, and considered her next step. Not willing to sever her connections with aviation, she worked first as an air traffic controller trainee for the Civil Aeronautics Administration in 1942 and as an inspector for the United States Navy Bureau of Aeronautics in 1943 before enlisting in the Army as a WAC [Women's Army Corps] in 1944. After completing basic training in Des Moines, Iowa, Private Schimmoler was sent to California's Fairfield-Suisun Army Air Base – renamed Travis Air Force Base in 1951 – where she was assigned duty in base operations as a dispatcher, "since they could not find a place for me to serve direct in Air Evac". 12 Schimmoler was alone on duty one night in 1944 when the first C–54 Skymaster air evacuation flight from the Pacific Theater of Operations touched down safely on her watch. She recalled that being present for the arrival of this plane "was gratification which no amount of money could purchase". 13 She continued: "When the first stretcher made its appearance in the open door of the plane and they began to move slowly down the ladder, I was overcome by it all for the moment. I said aloud, 'And they said it wouldn't be done.'" 14 It may have been a bittersweet moment for Schimmoler, however, to see that her dream had become a reality – but not for ANCOA.
In an unpublished autobiographical manuscript, Schimmoler recalled when Mickie [Matilda] Grinevich, a former ANCOA nurse who later served on air evacuation duty with the military, "bestowed an unexpected honor on me when she removed the wings from her uniform and said, 'Lauretta, I want you to have these as a momento [sic] of our pioneering days together.'" 15 Real-life recognition of Schimmoler and ANCOA by the military came at last in 1966. During the thirty-seventh annual meeting of the Aerospace Medical Association, Lieutenant General Richard Bohannon, Surgeon General of the United States Air Force, presented Schimmoler, who was a guest at the luncheon of the Flight Nurse Section, an honorary United States Air Force flight nurse certificate and flight nurse wings. 16
Notes
1 Lauretta M. Schimmoler, letter to Leora B. Stroup, 17 Jan 1942; Lauretta M. Schimmoler, letter to H.A. Coleman, 22 Mar 1945.
2 Katherine V. Sinks, "Aviatrix Joins Air Wacs," Glendale (California) News-Press, 27 July 1944.
3 Dora D. Strother, "The W.A.S.P. Program: An Historical Synopsis," AF Museum Research Division, Wright-Patterson AFB, OH, Apr 1972, 11. [AFHRA K220.0721–19] The cut-off age was 35.
4 Lauretta Schimmoler, letter to Leora B. Stroup, 26 Jun 1942.
5 James Rian, "Parachute Nurse," revised final draft of screenplay, Columbia Pictures, 6 Mar 1942, 13. [Bucyrus, OH Historical Society]
6 Schimmoler, letter to Stroup, 17 Jan 1942; Lauretta M. Schimmoler, letter to Leora B. Stroup, 5 Mar 1942; Lida Dolan for Lauretta M. Schimmoler, letter to Leora Stroup, 2 Apr 1942; Lauretta Schimmoler, letter to Leora B. Stroup, 26 Jun 1942.
7 Lauretta M. Schimmoler, letter to Frank, 13 Apr 1942; Esther Smith, "Ex-Bucyrus Airport Manager Turns to Movies," Mansfield News-Journal, 16 Aug 1942. The recipient may have been F.L. Hopley of Bucyrus, OH.
8 "'Parachute Nurse' Timely; 'Halfway to Shanghai' Fair," Hollywood Reporter, 8 (Sep 1942): 4.
9 Rian, "Parachute Nurse," n.p.
10 "Parachute Nurses?" RN 5 (Feb 1942): 56.
11 Ibid., 56, 58.
12 Lauretta M. Schimmoler, "The Story of How It All Began: 'And They Said It Wouldn't Be Done'," unpublished manuscript, n.d., 8.[Bucyrus, OH Historical Society]
13 Ibid., 8–9.
14 Ibid., 9.
15 Ibid., 7. Matilda D. Grinevich was a career Air Force nurse who had several air evacuation assignments; her first was with the 801 MAES in the Pacific in World War II.
16 "Lauretta Schimmoler Receives Honorary U.S. Air Force Flight Nurse Certificate and Wings," Aerospace Medical Association, 37th Annual Meeting, Las Vegas, Nevada, press release, 20 Apr 1966; "Miss Schimmoler Awarded Honorary Flight Nurse Certificate and Wings," Journal of Aerospace Medicine 37 (Jul 1966): 757, 759.
Former ANCOA nurses Leora Stroup, Eileen Newbeck, Margaret Gudoba, and Matilda Grinevich all served as flight nurses in the US Army Air Forces in World War II. To learn how the dream of flight nursing as part of air evacuation in the US military became a reality, see Beyond the Call of Duty: Army Flight Nursing in World War II (Kent State University Press, 2013).