Personal Reflections on Coping with War
Part 4 When the Holidays Came
For the 25 flight nurses interviewed for Beyond the Call of Duty: Army Flight Nursing in World War II, wartime service was beset with potentially difficult circumstances that could exact a toll on even the most hardy of nurses. To cope with these professional and personal challenges, these women drew on many sources of support, tangible and intangible, physical and mental. Social support, one's physical condition, and abilities and skills fostered in nurses' training all helped the flight nurses cope behaviorally with the multiple demands of the war. Reasonable expectations, devotion to duty, an optimistic outlook, and faith in one's God, one's colleagues, and one's self all helped them cope emotionally with the war.
The flight nurses displayed a broad range of creativity, most apparent in their uncanny ability to make do admirably with what was on hand or could be scrounged. Lee Holtz, assigned to the 801 Medical Air Evacuation Squadron (MAES) related a humorous incident of making do for Christmas in the Pacific:
So here we were, a bunch of women bemoaning the fact that we wouldn't get anything for Christmas, so we made each other little Christmas presents. I remember somebody dyed – I don't know how they dyed – a bra purple for me. That was my present. … But we all made each other something or stole something from them and did something to whatever they had.
Their Christmas tree was very saggy and looked like a weeping willow, but the flight nurses decorated it with whatever they could find, including spoons from the mess hall. But the coup de grace, Holt said, was a package from the Red Cross – a man's sweater for a female nurse assigned near the equator, about the most useless gift possible.
Christmas packages from home were in transit for months; when they did arrive, boxes of chocolates were reduced to a mound of goo, and cakes had mildew for icing. Holtz explained, "Of course, our folks at home didn't know how we were living, really. You know, we really couldn't say much in our letters. We could never say where we were, so they didn't really know that we were on the equator."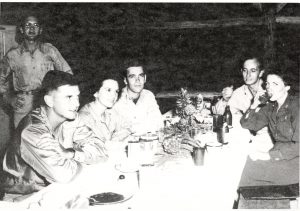 801 MAES Flight Nurses Helena Ilic (L) and
Eloise Richardson (R), Bougainville, 1943
[Author's Private Collection]
Hilda Halverson, who flew with the 826 and 830 MAES in the Pacific, shared a similar story. One of her four sisters had sent her a Christmas box, which caught up with Halverson months after the holiday, at Clark Air Base in the Philippines. When she received the box, Halverson said, "Oh, fellows, I'm going to be able to treat you, I got a box." But when she opened the package, she discovered about an inch of "mildew" covering the cake and cookies that her sister had baked. "And here [she was going to share] – oh, it was so awful! We opened that and cut it all up."
Adele Edmonds, a flight nurse with the 801 MAES in the Pacific, had a vivid memory of Christmas Eve 1944 in the Philippines. Because of reasons she had forgotten, the crew couldn't make it back to their home station and wound up sleeping in a Catholic church that also housed patients cared for by nuns. An alert sounded, and the crew had to go under cover. "And you could see them – the bombing and the effect of it, nearby."
Like many of her flight nurse colleagues, Jocie French of the 818 MAES spent Christmas Day in an unexpected location. For several days the weather had prevented flying from England into France to pick up patients. She continued the story:
And on this one particular day, I think it was the twenty-third of December, two girls went out – myself and another girl that was our turn to go. And we were carrying blood and medical supplies. And just as we got down to the coast … the crew chief or the copilot came back and said, "Get into a parachute." And he was getting into one. We'd lost an engine. …. I kept thinking, Do I get out of this parachute before we hit the water? Because I knew we had been gone long enough to be over the Channel. Or do I hit the water with the parachute?
That's when French wished she'd remembered a little more from her parachute training. Fortunately the plane was able to make it to a base on the British side of the Channel, where the crew stayed overnight until the engine was fixed.
The next morning, the crew resumed their mission to France, but the weather again closed in for days; for two nights Adele and her colleagues stayed in an old bombed-out building with blankets for their beds. Once all the troops left for the Battle of the Bulge, the Red Cross sent word that any nurses who were there could come down and stay at the Red Cross. French continued:
So I went down, and that was a happy day. I went down and had a hot bath and slept between sheets that night. And the next morning I got up and took a subway back to Orly Field [near Paris], and that was Christmas Day, I guess. … [We] stood in line in the open. They had dinner prepared in tents. But we had Christmas dinner, and then we left that afternoon, and we did not take patients back. … I got home the day after Christmas, and the weather had cleared up just miraculously, and every one of our girls had gone out, and I was rambling around in that big building all by myself.
For Agnes Jensen, one of 12 flight nurses and 13 medical technicians trying to get back to allied territory when the plane on which they were flying from Sicily to new duty assignments in Italy had to make an emergency landing in enemy occupied Albania, Christmas of 1943 was unforgettable. A British contingent had linked the stranded troops up with a lieutenant, a sergeant, a wireless, and donkeys to facilitate their trek to the coast where they could be returned by ship to Italy. The pilots had found an abandoned German airstrip along the way where allied planes could attempt an air rescue. Jensen picked up the story:
And it was December twenty-second. We began to think we were going to make it out the twentieth, before Christmas. And the Germans and partisans started fighting up and down this valley that we'd gotten into. It was kind of decent terrain, but it was between river and roads. And we didn't know how far the fighting would spread, so … we backtracked for a couple of days, to get back across the river, across the road, and up in a higher mountain. We could see this town of Gjirokastër, which is one of the larger towns, too, and we'd stayed there one night. But the Germans occupied it the day after Christmas. … And then the weather socked in for 10 days. … So we just sat in this town waiting over Christmas.
The travelers finally made it to the coast, where a boat returned them to Italy, after the New Year. See Beyond the Call of Duty for more about the flight nurses' time in Albania.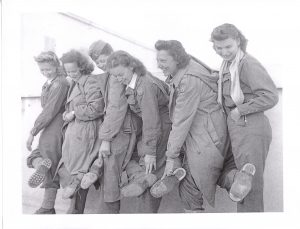 807 MAES Flight Nurses after Return from Albania
[USAF Photo]