The Eighth in a series of Blogs about the 31 Medical Air Evacuation
Transport Squadrons activated during WW2
to provide inflight nursing care to sick and wounded soldiers,
tended by Army flight nurses and enlisted technicians.
The focus is on the flight nurses.
Formation of Medical Air Evacuation Transport


Squadrons in World War II
"We changed squadrons so fast that we'd get up in the morning,
we belonged to somebody else."
WW2 flight nurse Mary Eileen Newbeck Christian
21 May 1986
Although the 31 MAETS of WW2 were activated as discrete units, their activities often overlapped. Because of the changing needs of air evacuation to accommodate the number of casualties as ground forces moved toward Germany in the European Theater and toward Japan in the Pacific, Flights (when capitalized, Flight designates 6 flight nurse / enlisted technician teams) or individuals from a squadron might be sent on Detached Service or Temporary Duty to augment another MAETS, or an entire MAETS might be relocated to work in coordination with a squadron already assigned to an area.
Toward the end of the war, some MAETS were disbanded and their personnel reassigned to a different squadron. The 830 MAETS consisted of personnel previously assigned to other squadrons whose services now were needed both in the US and throughout the world to bring the backlog of patients home from overseas and, once in the US, to transport them to a stateside hospital for definitive care, preferably to one close to the soldier's home. Unlike the other 30 MAETS with a chief nurse and 4 Flights of 6 nurses, by war's end, the 830 MAETS had 78 Flights. Thus the activation of MAETS is also one of a kaleidoscopic splitting, disbanding, combining, and reassigning Flights to meet wartime exigencies. Flight nurses often were unsure to which MAETS they were assigned. As Mary Christian, who went by Eileen Newbeck during WW2, remarked in an interview, "We changed squadrons so fast that we'd get up in the morning, we belonged to somebody else." Their work and duty station did not necessarily change, only their squadron number.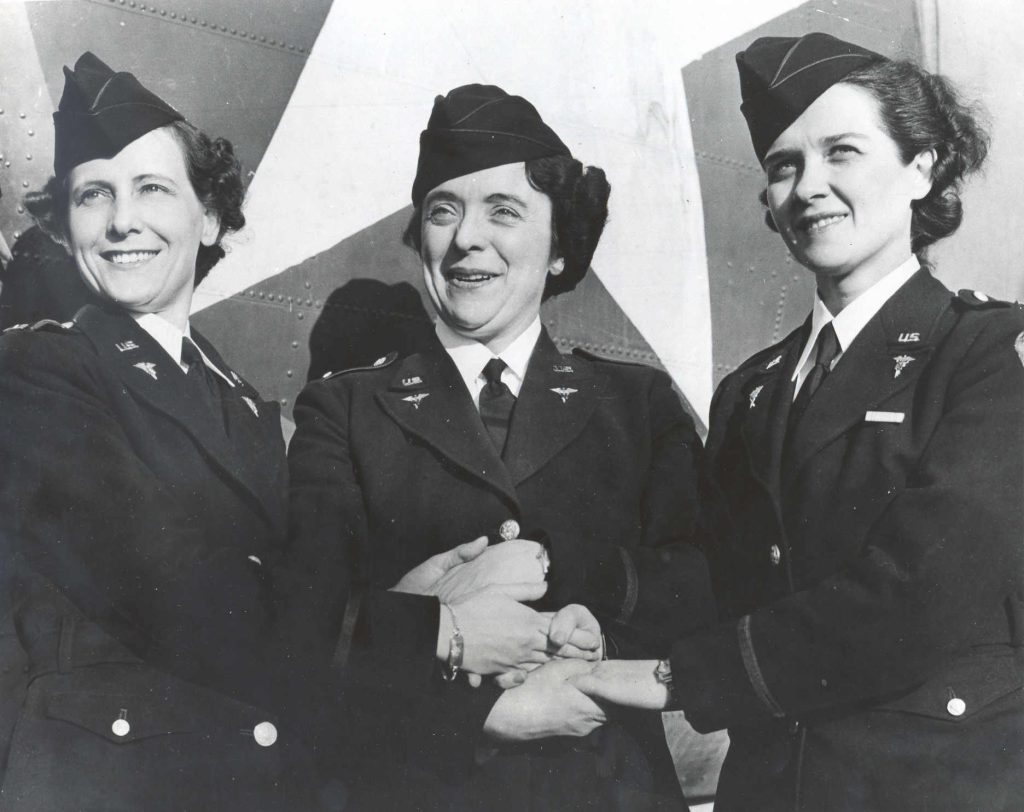 Eileen Newbeck (left) with former ANCOA colleagues Leora Stroup
and Margaret Gudobba at Bowman Field, KY for
AAF flight nurse training (USAF Photo)
The list below shows dates of activation and initial assignments for the 31 MAETS. A pattern is discernable. With the attack on Pearl Harbor, attention turned initially to the Pacific, and the 801 MAETS was sent to Espiritu Santo in support of the Battle of Guadalcanal, and the 804 MAETS to Australia and on to New Guinea. But when the US and the UK agreed to focus initially on defeating Hitler in the Europe First strategy, these nations dedicated the majority of their resources, personnel and materiel to the European Theater. The 802 MAETS was sent to North Africa in support of Operation Torch. The 803 MAETS was assigned to India in support of America's defense of China, where Japan had been fighting a war of conquest since 1937. President Roosevelt considered that defense vital to the defense of the US.
The 805 MAETS initially was sent to AAF training centers in Thermal, CA and Orlando, FL where soldiers were prepared for overseas deployment. When that training wound down, two Flights of the 805 MAETS were sent to Alaska in support of the Battle of the Aleutian Islands, fought simultaneously with the Battle of Guadalcanal. The US feared that Japan could use their presence in the Aleutians to launch an attack on the West Coast. Another flight of the 805 MAETS was sent to Accra in Central Africa where an air evacuation route was established to return sick and wounded soldiers to hospitals in theater and on to the US for definitive care.
Beginning with the 806 MAETS, almost a third of the MAETS were assigned to England in anticipation of D Day. Meanwhile, the Allies fought a holding action in the Pacific until Germany was defeated in May 1945, at which time full attention was turned to defeating Japan. With the increase in battlefield casualties in both Europe and the Pacific, additional MAETS were needed to cover the transoceanic routes to evacuate patients back to the US to open up more beds in the theaters of war, and to provide inflight care to patients on domestic air evacuation flights. The remaining 822 MAETS through 831 MAETS supported those missions, primarily as part of Air Transport Command (ATC). Prestwick, Scotland, Orly Field near Paris, Naples, Lajes in the Azores, Stephenville, Newfoundland, Accra in Central Africa, Natal, Brazil, and Bermuda all had flights of MAETS assigned in legs of longer transoceanic flights originating in Europe. In the Pacific, Hickam Field, Oahu was the major hub in the Pacific with flights arriving from the various islands where the US had secure airfields for air evacuation activities.
Squadron
801 MAETS
802 MAETS
803 MAETS
804 MAETS
805 MAETS
806 MAETS
807 MAETS
808 MAETS
809 MAETS
810 MAETS
811 MAETS
812 MAETS
813 MAETS
814 MAETS
815 MAETS
816 MAETS
817 MAETS
818 MAETS
819 MAETS
820 MAETS
821 MAETS
822 MAETS
823 MAETS
824 MAETS
825 MAETS
826 MAETS
827 MAETS
828 MAETS
829 MAES
830 MAES
831 MAES


Date of Activation
10 Dec 1942
10 Dec 1942
10 Dec 1942
10 Dec 1942
10 Dec 1942
10 Dec 1942
01 May 1942
01 Jun 1943
05 Jul 1943
01 Aug 1943
01 Sep 1943
01 Sep 1943
01 Oct 1943
01 Oct 1943
10 Nov 1943
10 Nov 1843
10 Nov 1943
10 Nov 1943
10 Nov 1943
10 Nov 1943
20 Jan 1944
20 Jan 1944
01 Mar 1944
01 Mar 1944
01 Apr 1944
01 May 1944
01 Jun 1944
01 Jul 1944
01 Aug 1944
05 Nov 1944
08 Nov 1944


Initial Assignment
Espiritu Santo in Pacific
North Africa
Chabua, India
New Guinea
Thermal CA, Orlando FL, Alaska, Africa
England
Sicily
Natal, Brazil and Accra, Africa
Hickam Field, Oahu
England
England
Hickam Field, Oahu
England
England
England
England
England
England
England
Milne Bay, New Guines
Chabua, India
Stephenville, NFLD and Lajes, Azores
Wilmington DE and Memphis Airport TN
Romulus Field MI and Memphis Airport TN
Casablanca, Karachi
Saipan, Australia (as 830 MAES)
Romulus Field MI, Memphis Airport TN
Saipan, Australia (as 830 MAES)
Africa, Azores, Bermuda (as 830 MAES)
US and Worldwide
Pacific and Guam
With Japan's surrender in September 1945, the planned redeployment of MAETS from other theaters to the Pacific was not required. By December 1945 most of the MAETS were either deactivated or had been disbanded and reformed as numbered Flights of the 830 MAES. By the end of the war, over half of the MAETS had been incorporated into the 830 MAES.
In 1946 only the 801 MAES in the Pacific, the 806 MAES in Europe, and the 830 MAES and 831 MAES in the US were active. The 831 MAES, which had been deactivated in December 1945, was reactivated in July 1946 as an operational and training unit of the School of Aviation Medicine at Randolph Field, TX, which had incorporated the flight nurse and enlisted technician courses when the School of Air Evacuation closed at Bowman Field, KY in October 1944. The 801 MAES moved from Clark AB in the Philippines to Tachikawa AB, Japan in September 1946. It was the only squadron in the area when in June 1950 the North Korean People's Army invaded South Korea at the 38th Parallel. The 2 Flights of the 801 MAES stationed at Clark AB where they augmented the base hospital staff joined the 1 Flight at Tachikawa AB in September 1950, and with locally available personnel and flight nurses transferred from the US, the 801 MAES began a new chapter in a new war.
For more about the MAES, see Beyond the Call of Duty: Army Flight Nursing in World War II. What follows is a series of Blogs about these 31 MAES in which I focus on the flight nurses assigned.
Note
Mary Eileen Newbeck Christian, interview with author, 21 May 1986.