USAF Flight Nurse Photo Album
When stationed as a flight nurse with the 9th Aeromedical Evacuation Group at Clark Air Base, Philippines, 1973–75, I put together a hand-printed photo album illustrating a "typical" day of air evac duty. The photos, all but one of which I took myself, were taken on several different missions in 1975 and do not represent an actual flight plan.
In this typed version of the original text, which I printed in block capitals, I have divided the content into three sections across three blogs: PRE-FLIGHT, INFLIGHT, and POST-FLIGHT. Page numbers refer to the original photo album.
POST-FLIGHT
Page 18
The mission is over. An urgent patient off-loaded at Yokota Air Base, Japan is met by a helicopter for immediate transfer to Yokosuka Naval Hospital nearby. This procedure is known as a "dust-off."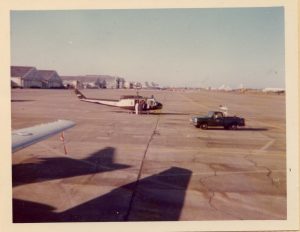 HELICOPTER AWAITS PATIENT FROM C-9A
The med techs wait on crew transportation at Kadena Air Base, Okinawa.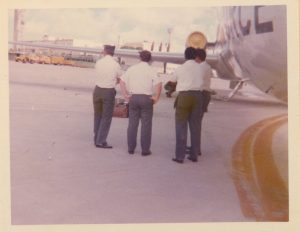 WAITING ON CREW TRANSPORTATION
Page 19
Flight mechanic SSgt Nelson is post-flighting the C-9A at Kadena Air Base.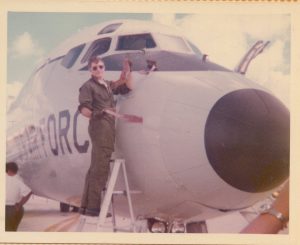 FLIGHT MECHANIC SSGT NELSON
Crew chief Amn Wojienowski completes his post-flight check of the C-9A at Kadena Air Base.
CREW CHIEF AMN WOJIENOWSKI
Page 20
Remaining overnight at Yokota Air Base, Japan, members of the crew depart base on an adventure in search of supper. Waiting at the train station off base are SSgt Everingham, Capt Northcutt, Capt Barger, and SSgt Winstead.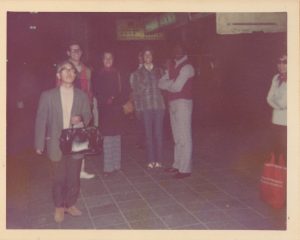 AIR EVAC CREW AT FUSSA TRAIN STATION, JAPAN
Supper this night is a Big Mac, order of fries, and a hot apple pie at McDonald's in Tachikawa, Japan. That's Sgt Gimerek with his mouth full, SSgt Winstead, SSgt Everingham, and Capt Northcutt.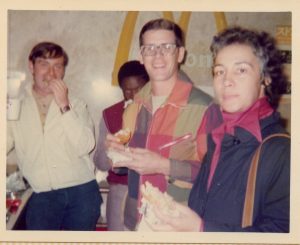 AIR EVAC CREW AT MCDONALD'S IN TACHIKAWA, JAPAN
"… WE HAVE ENJOYED SERVING YOU AND HOPE THAT YOUR FLIGHT HAS BEEN A PLEASANT ONE AND THAT YOU HAVE A SPEEDY RECOVERY."