Personal Reflections on Coping with War
Part 6 When Grooming Was Important
For the 25 flight nurses interviewed for Beyond the Call of Duty: Army Flight Nursing in World War II, wartime service was beset with potentially difficult circumstances that could exact a toll on even the most hardy of nurses. To cope with these professional and personal challenges, these women drew on many sources of support, tangible and intangible, physical and mental. Social support, one's physical condition, and abilities and skills fostered in nurses' training all helped the flight nurses cope behaviorally with the multiple demands of the war. Reasonable expectations, devotion to duty, an optimistic outlook, and faith in one's God, one's colleagues, and one's self all helped them cope emotionally with the war.
Once they began their actual air evacuation duties, the flight nurses entered a topsy-turvy world. An obvious manifestation of their circumstances of work was seen in their uniforms. Helena Ilic of the 801 Medical Air Evacuation Squadron (MAES) in the Pacific recalled that they didn't have a set uniform – it was catch-as-catch-can. The flight nurses often were issued men's uniform items to wear and had to modify them as necessary to make them fit. Clara Morrey, stationed with the 802 MAES in North Africa, recalled that her squadron was sent overseas before the flight nurse uniforms were finished, so the nurses were told to take two pairs of navy blue slacks and blue regulation shirts with them. Their first three shipments of uniforms were sunk. "We didn't get our uniforms until about nine months after we were there, and so you should have seen our uniforms in that hot African sun," said Morrey. "They were bleached to a purple. And when we were on trips, we would put them under the mattress to press them out. Oh, they were terrible!"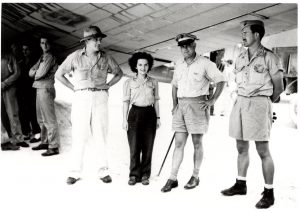 Helena Ilic in Emerau, 1944
[Author's Private Collection]
For chief nurse Grace Dunnam in England with the 806 MAES the most difficult thing about being a flight nurse was trying to keep her flight nurses properly dressed in their uniforms. For example, they were not supposed to mix items from two different types of uniforms. She chose to overlook some minor transgressions such as the wearing of red nail polish, which she felt was good for morale. But if a uniform infraction was reported to her, she felt obligated to talk with the flight nurse about it. What was not brought to her attention, however, Dunnam was willing to ignore.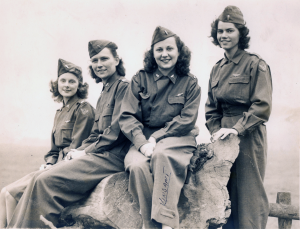 806 MAES Chief Nurse Grace Dunnam (2nd from left)
[USAF Photo]
A neat, well-groomed appearance was expected of every flight nurse during the war. While most nurses experienced some inconvenience in keeping up their appearance, Jocie French, a flight nurse with the 818 MAES in England, admitted concerns about having to wear the same uniform all the time and about having trouble getting hose, makeup, and permanents for her hair. Concerns such as these may appear trifling, but the flight nurses realized that their appearance had a definite effect on the morale of the men fighting the war. For this reason, Elizabeth Pukas, chief nurse of the 812 MAES in the Pacific, attached extreme importance to grooming:
I expect my nurses to be as if they just came out of Elizabeth Arden's salon, with her hairdo, with her makeup, with her uniform absolutely immaculate. … She is to be immaculately clean, and as beautiful and as presentable as she has been trained in flight nursing school to be.
The flight nurse was, according to Pukas, '"to be the most beautiful woman that the wounded are going to rest their eyes on."
Jo Nabors, one of Pukas's flight nurses, explained her chief nurse's grooming requirement:
Yes, we had to look nice. We had to be dressed nice, our hair always had to be done right. And before we came in, we had to go and put lipstick on, you know, before you picked up a flight of patients. We had to be all groomed. We had to smile. We had to smell nice. You know, that's true. We did. And we were there for a morale booster, also, because I think they liked to see some American girls. After all, they'd been on the islands for so long that they didn't know what we all looked like. And I think they were happy to see flight nurses all prettied up with permanents and their hair done and their eyelashes taken care of. I think that was one of the prime requisites, I think, to be a flight nurse. They didn't expect us to be beautiful, I don't think so. But we had to know how to wear our hair and wear our makeup and be neat.
A sense of humor helped, as Lee Holtz assigned to the 801 MAES explained:
You know, we laughed about many things that happened. Like … you'd get in [from a flight] and … it was too late to take a shower, and you sort of splashed a little water on your face from your helmet, which you always had with you. Or once I came back from a flight, and the tent or something had leaked, and all my clothes were wet, and I didn't even have anything dry to put on. But we hung them all out, and, you know, we just laughed about it. You couldn't get upset about anything, you just couldn't. You couldn't survive that kind of life.
The patients were worth the extra effort that these women put into their appearance during the war. Ilic summed it up: "I think that you owe your patients everything that you possibly can give them. … I mean, you owe your patients your best." Clearly, that included good grooming.