In Memoriam
World War II Army Flight Nurses
Jenevieve (Jenny) Boyle Silk, who died in June 2017, was the last living of the 25 World War II US Army flight nurses whom I interviewed in 1986 for what became Beyond the Call of Duty: Army Flight Nursing in World War II. I clearly remember each of my interviews with these remarkable women and still can picture them and hear their voices when I think of them.
Twenty of these interviews are now digitized and available as audio recordings on the Imperial War Museum website. Access the interviews here:
https://www.iwm.org.uk/collections/search?query=judith+barger&filters%5BwebCategory%5D%5BSound%5D=on&pageSize=&pageSize=
My short remembrances are in the order in which I interviewed these former flight nurses.
Alice Krieble (1912–1999)
818 MAES, Europe
Alice KRIEBLE (Indianapolis City Hospital School of Nursing, Indianapolis, Indiana, 1940) worked as an emergency room evening supervisor after completing her nurses training. When the day supervisor left, Krieble was in charge of the department. She felt that opportunity gave her ample opportunity and special knowledge beneficial to the service, for she had wanted to work in a field hospital. It was, Krieble said, the best job she ever had. But, as she continued, "it didn't turn out that way". She felt that if the men had to go to war, "I can do my little part as a nurse. The young airmen don't want to go, either." She entered the Army on 1 January 1943 with an initial assignment in a Miami Beach hotel converted into a hospital. Dissatisfied with the paperwork and "policing" duty of convalescent patients that her job entailed, she applied for flight nurse training, was accepted, and graduated from the flight nurse course at Bowman Field on 11 March 1944 with assignment to the 818 MAES for duty in England.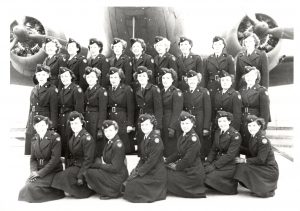 Alice Krieble (second from left on second row) with flight nurses of her squadron.
(USAF Photo)
A delightful woman who laughed easily, Alice hadn't wanted to be interviewed, she said – she had been interviewed so much about her World War II experiences that it had gotten old. But, she admitted after our interview, she hadn't minded talking to me – what she really didn't like was talking to large groups of women. From Alice, who needed very little prompting, I learned to sit back and let her take the lead once I'd asked some background questions. Like Grace before her, Alice did not let me tape the interview, but my written notes revealed many ways in which Alice coped with her colleagues and the daily challenges of air evac duty in wartime. Alice died on 21 March 1999 at age 86 after retiring as a lieutenant colonel in the US Air Force.
Interviewed 3 April 1986, San Antonio, TX
Learn more about my interview with Alice on the Blog for 20 July 2015.
To be continued