In Memoriam
World War II Army Flight Nurses
Jenevieve (Jenny) Boyle Silk, who died in June 2017, was the last living of the 25 World War II US Army flight nurses whom I interviewed in 1986 for what became Beyond the Call of Duty: Army Flight Nursing in World War II. I clearly remember each of my interviews with these remarkable women and still can picture them and hear their voices when I think of them.
Twenty of these interviews are now digitized and available as audio recordings on the Imperial War Museum website. Access the interviews here:
https://www.iwm.org.uk/collections/search?query=judith+barger&filters%5BwebCategory%5D%5BSound%5D=on&pageSize=&pageSize=
My short remembrances are in the order in which I interviewed these former flight nurses.
Mary Newbeck Christian (1915–2012)
805 MAES, Alaska
Mary Eileen Christian née NEWBECK (Providence Hospital School of Nursing, Detroit, 1937) worked as a hospital nurse in surgery, and eventually as an industrial nurse after her graduation from nursing school in 1937. During that time she was a member of the Aerial Nurse Corps of America, a civilian flight nurse organization founded by Ohio pilot Lauretta Schimmoler, with a chapter in Detroit. Because of that experience, Newbeck entered the military with the understanding that she would go to flight nurse training and was in the first class of nurses to graduate from formal training at Bowman Field, KY on 18 February 1943.
A pleasant surprise awaited Lieutenant Newbeck at Bowman Field – two former ANCOA members from Detroit Company A were on base. Captain Leora Stroup, the former Company Commander, was now director of flight nurse training for the Army Air Forces School of Air Evacuation, and Lieutenant Margaret Gudobba was in the second class of flight nurses that graduated on 26 March 1943. The local Louisville Courier-Journal of 2 March 1943, always eager for details about the flight nurses, made much of the "Three Aerial Nurse Pioneers Reunited At Bowman Field".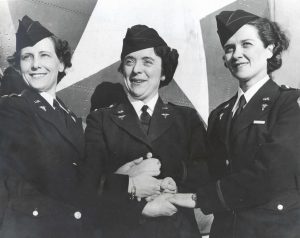 Eileen Newbeck (far left) with Leora Stroup and Margaret Gudobba, all former ANCOA nurses, at Bowman Field. [AMEDD Photo]
After flight nurse training, Newbeck was assigned to the 805 MAES with duty station in Alaska. She was delighted with her assignment, for she always had wanted to see Alaska, and Uncle Sam had paid for the trip. And best of all, she said, she met her husband there. Mary died in 2016 at age 97.
To listen to my interview with Mary Christian, click on the link:
https://www.iwm.org.uk/collections/item/object/80011343
Interviewed 21 May 1986, St. Petersburg, FL
Learn more about my interview with Mary on the Blog for 10 Mar 2016.
To be continued