In Memoriam
World War II Army Flight Nurses
Jenevieve (Jenny) Boyle Silk, who died in June 2017, was the last living of the 25 World War II US Army flight nurses whom I interviewed in 1986 for what became Beyond the Call of Duty: Army Flight Nursing in World War II. I clearly remember each of my interviews with these remarkable women and still can picture them and hear their voices when I think of them.
Twenty of these interviews are now digitized and available as audio recordings on the Imperial War Museum website. Access the interviews here:
https://www.iwm.org.uk/collections/search?query=judith+barger&filters%5BwebCategory%5D%5BSound%5D=on&pageSize=&pageSize=
My short remembrances are in the order in which I interviewed these former flight nurses.
Lucy Wilson Jopling (1916–2000)
Chief Nurse, 801 MAES, Pacific
Lucy Jopling née WILSON (Parkland Hospital School of Nursing, Dallas, TX, 1939) had planned to be a flight attendant after nurses training, but when her dad had a heart attack, she returned home to Big Sandy, TX instead. When she heard someone say that it's the women who would help win the war, Lucy joined the Army. An assignment in the Philippines, where she and her nurse colleagues evacuated their patients to Bataan and then to Corregidor, and her own evacuation from Corregidor on a submarine, determined her future military course of action. Flight nursing, Lucy decided, was the only way she knew to return to the Philippines to bring the POWs home. After graduating from the flight nurse course at Bowman Field on 26 November 1943, Lucy was made chief nurse of the 801 MAES and was sent with her squadron to the Pacific, initially to New Guinea but their island hopping took her eventually back to the Philippines.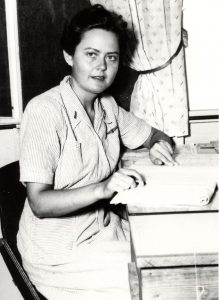 Lucy Wilson. (USAF Photo)
Lucy was working on her book Warrior in White (Watercress Press, 1990), which she described as a family history with focus on her years as an Army nurse, when she agreed to let me interview her about coping with war. As chief nurse of her squadron, Lucy, like Grace Wichtendahl, had a different perspective about her work than did other flight nurses whom I interviewed. Intense, spunky, strong-willed, courageous, she also already had wartime experience, as an Army nurse on Corregidor, that defined her experience later as a flight nurse in an air evac squadron working its way an island at a time toward the Philippines before war's end. With 26 other refugees, many of them Army nurses, Lucy had been evacuated by submarine out of Corregidor before the troops surrendered, and she was determined to return to help evacuate the American POWs from the Japanese camps. From Lucy's interview I learned to allow plenty of time for interviews, for at her suggestion we extended our conversation over lunch at a nearby fast-food restaurant. The sharing and socializing were mutually enjoyable and a fitting close to the interview. Lucy died on Christmas Day 2000 at age 84.
Interviewed 4 April 1986, San Antonio, TX
Learn more about my interview with Lucy on the Blog for 8 Aug 2015.
To be continued