In Memoriam
World War II Army Flight Nurses
Jenevieve (Jenny) Boyle Silk, who died in June 2017, was the last living of the 25 World War II US Army flight nurses whom I interviewed in 1986 for what became Beyond the Call of Duty: Army Flight Nursing in World War II. I clearly remember each of my interviews with these remarkable women and still can picture them and hear their voices when I think of them.
Twenty of these interviews are now digitized and available as audio recordings on the Imperial War Museum website. Access the interviews here:
https://www.iwm.org.uk/collections/search?query=judith+barger&filters%5BwebCategory%5D%5BSound%5D=on&pageSize=&pageSize=
My short remembrances are in the order in which I interviewed these former flight nurses.
Josephine (Jo) Malito Nabors (1920–2015)
812 MAES, Pacific
Jo (Josephine) NABORS née Malito (Saint Elizabeth Hospital School of Nursing, Youngstown, Ohio, 1941) stayed on as a staff nurse at Saint Elizabeth's Hospital after graduation. Having written to the Army Nurse Corps about joining, she heard nothing until the end of that year, and she entered the military right after Pearl Harbor was attacked. Jo had dreamed of being an Army flight nurse before the program even existed, never thinking that war might be declared. Her first assignment was at Keesler Field in Biloxi, Mississippi. After a year and a half on station, Jo signed up for flight nurse training in hopes of going to Europe; her orders for Bowman Field, Kentucky came through in the summer of 1943 for the class that graduated on 1 October 1943. Her 812 MAES was sent to the Pacific, however, with Elizabeth Pukas as chief nurse. Jo married immediately after graduation and flew under her married name, Nabors. Her new husband, also in the military, was stationed stateside throughout the war.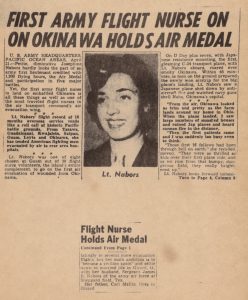 Jo Nabors featured in Honolulu newspaper clipping. (AFHRA)
Jo's was my second interview out of state. She met me at the airport, then took me to my motel where I interviewed her at her request, rather than drive us to the small town where she lived. Stylish, very friendly, and with a strong mothering instinct toward me, Jo was very articulate and talked easily. At the end of the interview, she let me know how much she'd enjoyed our visit, in part because I'd put her immediately at ease when I wasn't afraid to talk about myself and to answer her questions. That, she said, made her more comfortable chatting about her own experiences as a flight nurse in World War II. Jo died in 2016 at age 95.
To listen to my interview with Jo Nabors, click on the link:
https://www.iwm.org.uk/collections/item/object/80011354
Interviewed 1 May 1986, Girard, OH
Learn more about my interview with Jo on the Blog for 20 Dec 2015.
To be continued