WW2 Flight Nurse Poetry
For some World War II army flight nurses, the interim between earning their wings at the School of Air Evacuation at Bowman Field, Kentucky, and participating in air evacuation in the "real world" seemed like an eternity. The nurses turned to poetry to vent their frustrations. Beyond the Call of Duty: Army Flight Nursing in World War II details the flight nurses' training and their follow-on assignments.
The 11 verses of the "803rd Lament," written by Lieutenants Elsie Ott and Georgia Insley "while lying on cot waiting final movement orders at Bowman Field, Kentucky, July, 1943" and sung to the tune "It Ain't Necessarily So," depicts the sense of limbo in which the newly minted flight nurses sometimes found themselves but also gives a good overview of the flight nurses' activities during that time:
I. The Squadron is ready to go
But orders are coming in slow.
We wait without ranker
To get on a Tanker
Because we are ready to go.
II. We've packed all our clothes in our trunks
And tied up our val packs and bunks;
We've all had our hair set,
Our barracks are "To Let"
We'll help to defeat all those skunks.
III. Major Kaplan is our C.O.
He's fun, but means business, we know
He lectures on morale
"Get in there ant pitch, Gal
So we'll be the first group to go."
IV. Audrey Rogers is our new Chief
About her appointment, No Beef
We all like her greatly,
She moves so sedately
She's fair, square, and gives us no grief.
V. We almost lost out when we talked
Too much of our movement, and balked
The orders we waited,
They had been abated.
On ten hikes since then we have walked.
VI. On Bivouac we go with a smile,
We pitch, dig and march mile by mile
Gas alarms for our training
Major promised no raining,
But lost bets galore all the while.
VII. Four flights in the squadron have we
They're lettered A, B, C, and D.
Composed of a leader
and Five nurses sweeter
Than sugar in coffee or tea.
VIII. We swim every P.M. at four
We leave in the truck from our door
We who were afraid
Have now become brave.
We swim, dive and clamour for more.
IX. 803rd has the "Crack Loading Team"
The best men, and all on the beam.
They'll ne'er be defeated,
They'll be there when needed.
For jobs that are dirty or clean.
X. We have many more men than these
The cooks, drivers, clerks, and K.P.'s
They're administration,
And work with elation
So we'll soon be sent overseas.
XI. We've named most the parts of our group
And name Supply with a whoop!
Our story is ended
It was well attended
Now orders MUST come for this group. 1
Orders could be slow in coming, but the 803 Medical Air Evacuation Squadron (MAES), like the squadrons that would follow, eventually did depart Bowman Field for the actual work of air evacuation overseas. One could forgive Lt Ott's impatience, however; as a US Army hospital nurse in Karachi, India in January 1943, she had been selected to accompany five patients from Karachi, India to the United States in the first test of long-distance air evacuation, which earned her the Air Medal. At the conclusion of her historic mission, Ott requested and was granted orders for flight nurse training. Having already had a taste of flight nursing, Ott was eager to get back into the air. For more about that mission, see Beyond the Call of Duty.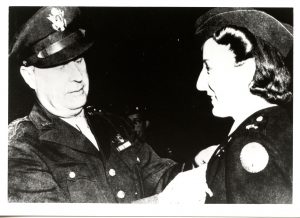 Elsie Ott receives Air Medal, 26 March 1943
[USAF Photo]
While other squadrons were setting new records for number of patients evacuated, the 819 MAES flight nurses were grousing about their assignment in Prestwick, Scotland. With three complete squadrons available for air evacuation missions beginning in September 1944, the workload was light. When the 816 MAES had left for France in October and the 806 MAES was rumored to be on its way soon, flight nurse Phoebe La Munyan turned to the squadron history to vent her frustration on the delay in movement orders for the 819 MAES:
Uncensored, beauteous manuscript of undetermined style;
Outlet for a thousand woes which make the best souls rile;
Confessor of a thousand sins found in no other file;
I wonder if you realize you're very much worthwhile!
For any transgression, we make a confession,
Or turn (we hope) 'subtle' accuser.
To right supposed wrongs, we type out our songs
Attempting to crush the abuser.
You're not just a recorder of events, or a hoarder
Of morning reports and S.O.'s!
You're our steam valve escape to keep us in shape –
Suppress tempers no matter what goes.
You help us coordinate, suppress, insubordinate,
Stop court martials 'fore they begin.
Though designed for Posterity, it appears with true clarity,
You quiet the present's mad din.
So we stop to salute – Take time out enroute
As we pour forth this latest edition.
We scrawl out this tripe and spread on our gripe
In accordance with army tradition! 2
The situation had not improved by December, and squadron historian June Sander's parody of "'Twas the night before Christmas" brought no results:
'Twas the night before Christmas' in the ETO [European Theatre of Operations]
Our bedding rolls were packed all ready to go.
We went to church and said prayers sincere
In hopes that our orders soon would be here. 3
With too much time on their hands as the holidays approached, the flight nurses' gripes intensified when holiday packages and mail failed to reach them. When the most wished-for gift – orders transferring the 819 MAES to a new assignment – still did not materialize, La Munyan picked up her pen again to indulge in some self-pity on behalf of her squadron:
Christmas is over. – The New Year draws near. –
And from all appearances we still will be here,
We've spouted and pouted and fumed and we've roared,
The 819th's transfer has well been ignored,
Our Mail cannot find us; We're parked upon shelves,
We surely fell sorry for – namely – ourselves.
The times in the offing at the close of the year
For new resolutions soon to appear.
We're firmly convinced we should make a stand,
Size ourselves up and take us in hand:
We will do our best no matter where stuck.
We'll try not to send our tempers amuck.
We'll settle us down and all cease to gripe:
But who – inblueblazes – would believe all this tripe: P.H.L. 4
Orders for the 819 MAES finally arrived in February 1945, sending them to Greenham Commons and from there to France in April, which proved to be the squadron's busiest month of activities when they evacuated 12,354 patients from Germany and France to England. 5
The deaths of flight nurse colleagues called out the inner poet in their friends. Lieutenant Catherine Price of the 817 MAES, who was on detached service with the 816 MAES in Europe, was lost along with her enlisted technician and 18 litter patients on 25 July 1944 when the aircraft in which they were traveling was reported missing en route to Newfoundland. The last communication with the flight crew occurred about 200 miles off the southern tip of Greenland. After a month of searching for the missing aircraft and waiting for word from or about its crew members, all hope was abandoned of finding survivors. Alice Fraser, a close friend, wrote "The Lost Mercy Plane" in Price's memory, but her poem honors all the flight nurses who served their country during the war:
One of the stars in our service flag
Has turned from blue to gold;
A nurse's cap has been laid aside
God has given her a crown to hold.
She offered her life for her country
Just as every American should;
She sat by the cots of the wounded
Their suffering she understood.
She traveled through miles of terror,
She wiped the tear filled eyes;
She silently prayed for her wounded boys,
As she flew through the darkened skys [sic].
And the boys on board that mercy plane,
Had faith in her gentle hand.
But why it had to be Catherine
We may never understand.
When we talk of the brave and courageous,
We naturally think of the men.
But our girls are winning a star and a stripe
When they offer their life for a friend.
Our girls can take their orders,
And they can lift up the stars and stripes,
And after this war is over,
May their sacrifice make things right. 6
When enlisted sergeant William J. Deak wrote his poem "Eloise," supposedly at the request of flight nurse Eloise Richardson of the 801 MAES, he couldn't have known that he was penning a eulogy as well as a love poem:
Of all the girls in all the lands
She seems the most attractive
Everything about her blends
To make my heart too active[.]
A pretty girl I've never seen
As this lovely Eloise
Anywhere I've ever been
Its her I long to squeeze.
Around her I long, my arms to throw
But behold she wears a bar
So sadder and weaker my heart does grow
While from her I remain afar.
Only a sergeant is what I am,
While she's a second louie,
Majors and colonels, made me scram,
But to me it's all so screwy.
So day by day my love does store
For Lt. Eloise Richardson
After the war, rank won't be anymore
Then ma[y]be our love will have fun. 7
Lieutenant Eloise Richardson had a premonition of her death. Helena Ilic, one of the new flight nurses in Richardson's squadron, remembered her saying at a party, "I'm never going to leave here." Ilic replied, "Oh, Eloise, of course we are. We're all going to leave here. One day this war will be over, and we'll all go home." 8 But on the evening of 18 May 1944 the plane in which Richardson was flying on her way to pick up a load of patients departed Bougainville for Guadalcanal and vanished. The weather had been poor in the vicinity of New Georgia, but other planes had gotten through without difficulty. The next day squadron members – flight nurses among them – went up in planes to search the area where the missing plane might have gone down but saw no trace of wreckage. 9 Richardson was declared missing in action and was the first nurse from the 801 MAES to lose her life. Richardson's death ended her flight nurse colleagues' sense of invincibility against the ravages of war; it must have been a devastating blow to Deak as well, whose future dreams had included his "lovely Eloise."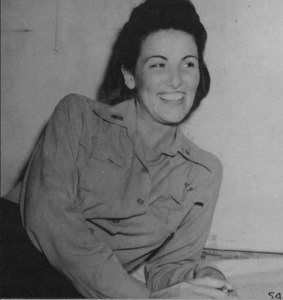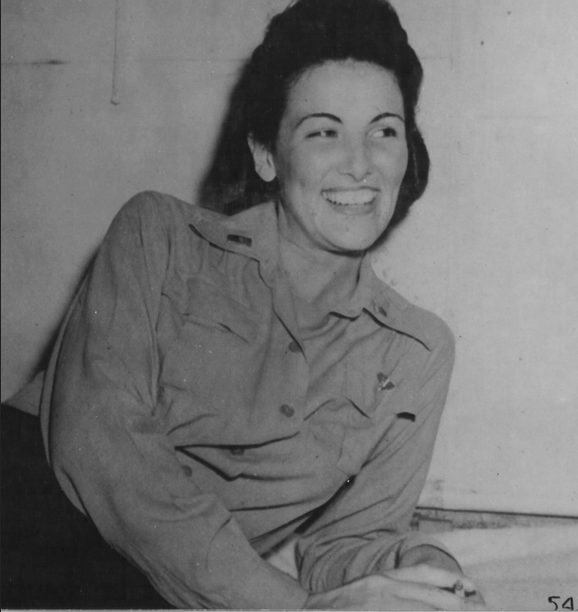 Eloise Richardson, Guadalcanal, c. 1 May 1944
[USAF Photo]
Poetic tributes to the flight nurses were not limited to their own squadron members. Even pilots waxed poetic. Although it might not have been their first choice of assignment, some pilots enjoyed flying missions with flight nurses on board, as this excerpt from "Troop Carrier Song – New Guinea" reveals:
I have seen Savannah dropping down from four to five
And I wondered if one of us would get back alive
And if I had to do it over, I would rather die
As I flew the Nurses home.
Chorus. Glory, Glory that's the way I want to fight
Glory, Glory, that's the way I want to fight
Glory, Glory, that's the way I want to fight
Just flying the Nurses home.
I'd rather fly a fighter than a transport any day
I'd rather fly a fortress than a biscuit-bomb at Lae
But when I see the Nurses you can bet I'll always say
I'll fly the Nurses home.
Chorus. Glory, Glory that's the way I want to fight
Glory, Glory, that's the way I want to fight
Glory, Glory, that's the way I want to fight
Just flying the Nurses home.
Mine eyes have seen the glory of the fighters victory roll
They have fought at thirty thousand, and have downed a worthy foe
And I have seen the bombers drop destruction down below
As I flew the Nurses home.
Chorus. Glory, Glory, what a hell of a way to fight
Glory, Glory, what a hell of a way to fight
Glory, Glory, what a hell of a way to fight
Just flying the Nurses home. 10
Flight nurses who were not evacuating patients could be assigned on a temporary basis to army station hospitals but had to be available at any time for their primary flying mission. Such duty, however, could fuel ill will in the nurses it was meant to help. According to Robert Futrell, army nurses in the Southwest Pacific made flight nurses of the 804 MAES remove their wings before arriving at their location. Similarly, when flight nurses volunteered to serve in an army hospital on Biak when not permitted to go onto the beachhead at Leyte in the Philippines, the hospital refused their help unless the flight nurses first removed their wings. 11
Not all ground nurses resented their airborne sisters, however. When flight nurses of the 804 MAES could not make flights past Port Morseby and Dibodura in New Guinea, station hospitals gave them food and lodging. Janet Foome, chief nurse of the 87th Station Hospital in Dobodura rendered poetic justice to these nurses whom she had housed and fed temporarily. The nurses at her hospital would be sorry to see the flight nurses leave for their next flying duties, she wrote, but realized that they had important, though not easy, work to do:
The little gold wings you wear o'er your heart
Signify to us that you have a hard part
To do in this job of winning the war
So here's to you Nurses of the Army Air Corps. 12
Notes
1 Elsie Ott and Georgia Insley, "803rd Lament," 803 MAES, July 1943. [AFHRA MED-803-HI]
2 P.H.L. [Phoebe H. La Munyan], "Squadron History – Section III: Ode to Squadron Histories," in "Headquarters 819th Medical Air Evacuation Transport Squadron," 31 October 1944. [AFHRA MED-819-HI]
3 June Sanders, "819th Squadron History – Section III," 30 November 1944, 1. [AFHRA MED-819-HI]
4 P.H.L. [Phoebe H. La Munyan], "Squadron History – Section III," 819 MAES, 31 December 1944, 1. [AFHRA MED-819-HI]
5 Emerson C. Kunde, "Part II – Narrative History," 819 MAES, 30 April 1945. [AFHRA MED-819-HI]
6 Alice Fraser, "The Lost Mercy Plane," 817 MAES. [AFHRA MED-817-HI] Reprinted in World War II Flight Nurses Association, The Story of Air Evacuation 1942–1989 (Dallas, TX: Taylor, 1989), 158–59.
7 Found with Wilbur A. Smith, "Historical Data, I July 1944 to 31 July 1944," 801 MAES, 2 August 1944. [AFHRA-MED-801-HI]
8 Ilic Tynan, interview with Judith Barger, San Antonio, TX, 26 April 1986.
9 Ibid.; "Historical Data, 1 May 1944 to 31 May 1944," 801 MAES, 2 June 1944. [AFHRA MED-801-HI]
10 "Troop Carrier Song – New Guinea," enclosure No. 18 in Leopold J. Snyder, "History of the 804th Medical Air Evacuation Transport Squadron for April, 1944," 27 May 1944, 45. [AFHRA MED-804-HI]
11 Robert F. Futrell, Development of Aeromedical Evacuation in the USAF, 1909–1960, Historical Studies No. 23 (Maxwell AFB, AL: USAF Historical Division, Research Studies Institute, Air University; Manhattan, KS: Military Affairs/Aerospace Historian, 1960).
12 Janet Foome, "Christmas Greetings and Farewell," enclosure No. 17 in Snyder, "History of the 804th," 27 May 1944, 44. {AFHRA MED-804-HI]