Meet the former US Army flight nurses whom I interviewed for
Beyond the Call of Duty: Army Flight Nursing in World War II.
In 1986 as part of my research about flight nurse history and coping with war, I was privileged to interview 25 former US Army nurses about events of their flight nurse duty in World War II. Most of them are now deceased, but their stories live on in Beyond the Call of Duty: Army Flight Nursing in World War II.
The journal I kept of my time with each of them in 1986 when writing my dissertation offers a brief personal glimpse of these remarkable women. I am sharing edited versions of these journals, in the order in which the interviews took place. The actual interviews are in separate documents.
1st Interview
Grace Dunnam Wichtendahl
806 MAES Europe
29 March 1986
I visited today with Grace Wichtendahl, a resident of San Antonio, Texas. After I had experienced a restless night with bad dreams about this my first interview, Grace put me immediately at ease, meeting me in the parking lot and walking me up to her apartment, where she served coffee and cookies as we began our chat. Grace is a charming, gracious woman, very neatly dressed.
Grace had decided on the best seating arrangement for us, with us sitting at adjoining sides of a coffee table where she had placed some items from her flight nursing days that she thought might be of interest to me—her pair of gold flight nurse wings with her name inscribed on the back; a photo scrapbook she had made during World War II; and a group photo of her squadron, the 806th MAES. This remarkable woman has kept up with all 24 nurses in her squadron for the past 40 years, with yearly Christmas cards and periodic reunions. The latest reunion several years ago brought about 16 of the nurses from the squadron together.
Grace leafed through the scrapbook, pointing out pictures as we talked. At one point Grace left the room and came back with a framed invitation to her for tea with the King and Queen of England at Buckingham Palace, one of the highlights of her assignment in England, and a framed picture and press release of her trip as the first American woman to fly into France following D-day.
The 806 MAES arrived overseas a year before D-day and a year before the other air evac squadrons. Grace recalled that the squadron used that time constructively, for their commander and administrative officer kept them busy with practice in "plane-loading, plane-loading, plane-loading" and "marching, marching, marching."
Grace likely has a different perspective on her assignment than do other flight nurses, since she was chief nurse of her squadron. Several women have told me that their stories are different when they get together to reminisce about their experiences as flight nurses in World War II.
In spite of what I perceive as my shortcomings in this first interview, I was admittedly excited finally to talk with a flight nurse who had served in World War II. Grace and I conversed easily, chatting about what flight nursing is like today and how it is so different from how it started out. I quickly learned not to try to force Grace into my agenda, but rather to pay attention to her agenda and how it was shedding light on my topic. Everything Grace said was pertinent and thus a valuable contribution to my study.
One of Grace's stories: Grace was responsible for seeing that the flight nurses wore their uniforms properly. When she received reports that a flight nurse was "out of uniform", that is, not wearing it according to regulation, she felt obligated to talk with the nurse about it, and did so. But what she didn't hear about, she ignored. For example, Grace didn't say anything about the red nail polish that her nurses wore, because she thought it good for their morale.
Grace died in 1990.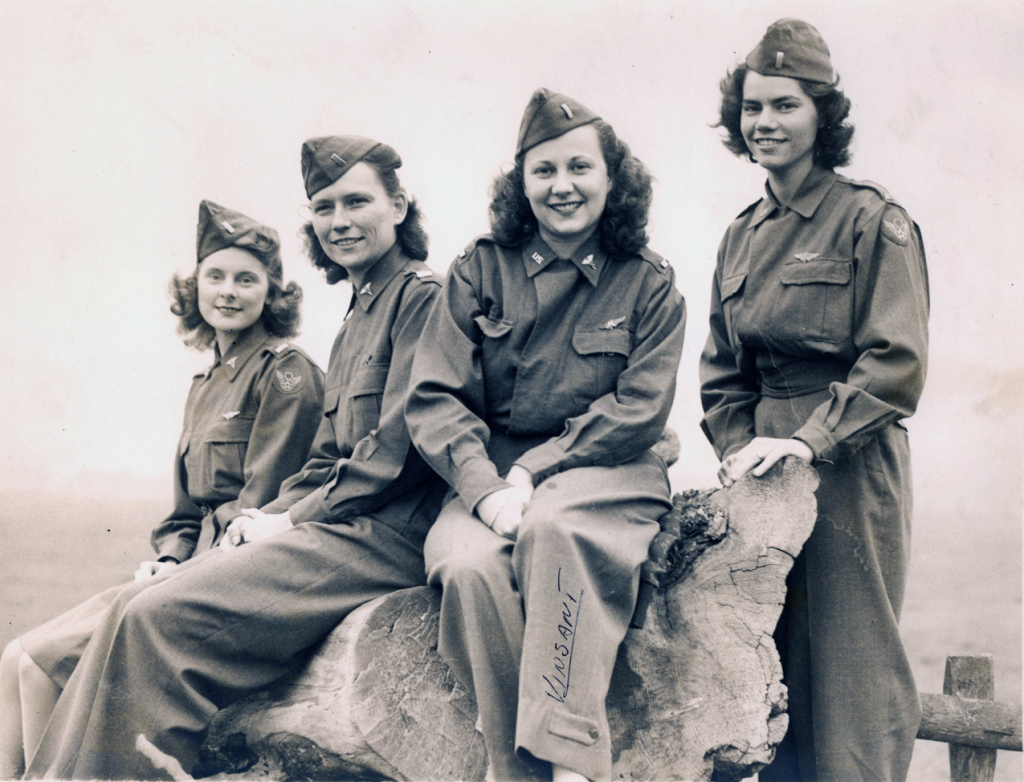 Grace Dunnam (second from left) and flight nurse
colleagues of the 806 MAES (USAF Photo)