The Sixteenth in a series of Blogs about the 31 Medical Air Evacuation
Transport Squadrons activated during WW2
to provide inflight nursing care to sick and wounded soldiers,
tended by Army flight nurses and enlisted technicians.
The focus is on the flight nurses.
The 805 MAETS and Many Firsts

Activated December 1942
The 805 MAETS could claim 4 "firsts" among the air evacuation squadrons activated at Bowman Field, KY in November and December 1942:
The first to send its air evacuation Flights on Temporary Duty to a stateside location before sending them overseas
The first to split up with its Flights embarking initially to different locations overseas
The first to send a Flight to an arctic regio
The first to lose a flight nurse and enlisted technician by death in the performance of duty
During the Battle of Guadalcanal in the Pacific, a lesser–known battle was fought closer to home in the Territory of Alaska. In June 1942, Japanese carrier-based aircraft had attacked an island in the Aleutian Islands off Alaska's southwestern coast, followed by invasion and occupation. Fearing that the Japanese would use the islands as bases from which to launch attacks against the west coast of the US, American and Canadian troops were sent to expel the troops. In that remote location hampered by extreme weather and rugged terrain, battle casualties needed evacuation by air; the 805 MAETS was sent to provide that support. But unlike squadrons that preceded it, the 805 MAETS was not awaiting orders at Bowman Field. Rather, it had been tasked to provide air evacuation at 2 training centers in the US. The Desert Training Center (DTC) stretching 18,000 square miles through the Mohave (CA) and Sonoran (AZ) Deserts prepared soldiers to fight in the harsh deserts of North Africa. The AAF Tactical Center in Orlando, FL with its airfields provided combat simulations for war games in its mock theater of war across 8,000 square miles to prepare air crews for deployment overseas.
Mary Christian, who flew as Eileen Newbeck during the war, was among the flight nurses and enlisted men sent to the DTC as part of 805 MAETS Flight B, where they evacuated sick and injured troops "that Patton left behind when he did all his training here to go over to Africa". The air evacuation crews transported the patients from tent hospitals to regular hospitals in Palm Springs, CA, El Paso, TX, and Yuma, AZ. She remembered 3 patients who had been severely burned when a stove blew up in their faces, "and 1 of them was so badly burned that there was no place even to take a pulse on him". The air evacuation team flew all 3 patients to Palm Springs. The rest of the squadron was left back at Bowman Field, the flight nurse recalled. "I don't know where they were sent." 1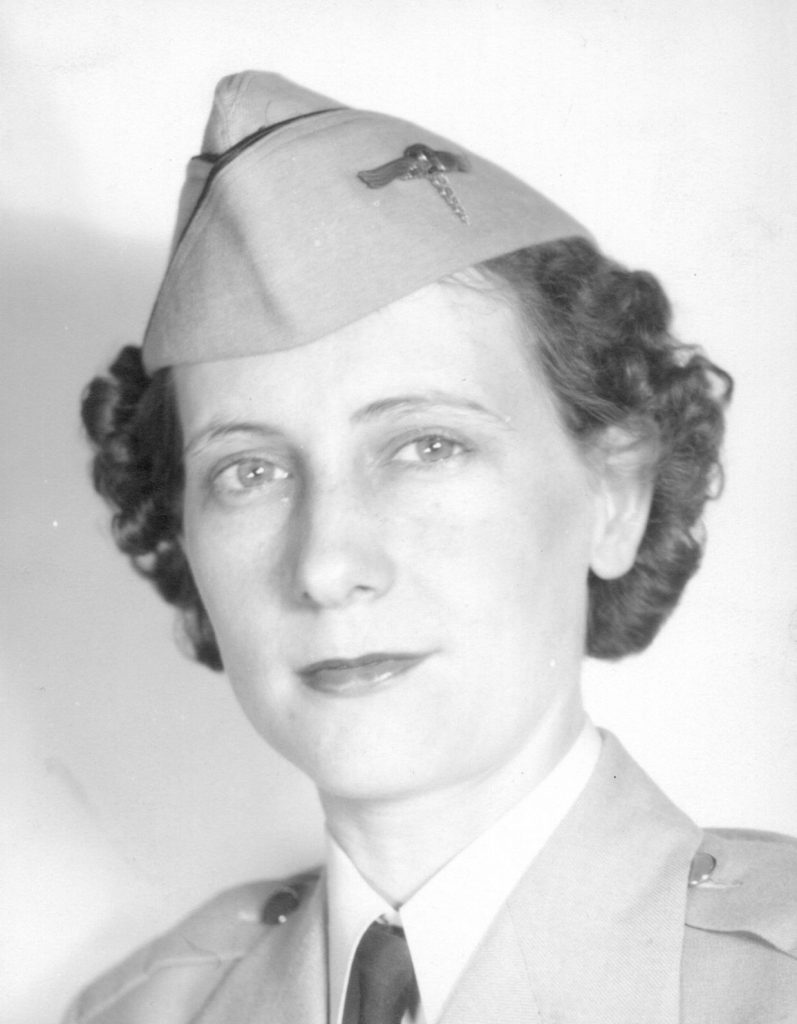 805 MAETS Eileen Newbeck in ANCOA uniform
before joining the Army (Author's collection)
Newbeck Christian might not have remembered, but available historical reports and other sources give a fair account of the wartime activity of each 805 MAETS Flight.
Flight A departed Bowman Field in April 1943 for Alaska, arriving at Fort Richardson near Anchorage, with flight nurse / enlisted technician teams stationed at Fort Richardson and at Adak. Air evacuation flights brought patients from outlying bases to Fort Richardson and occasionally from there to Oregon and Washington State. The unit historian identified keeping the patients warm in the cold planes on a flight of 8 to 10 hours difficult; although all planes had heaters, some did not function efficiently. Both litter and ambulatory patients were placed in sleeping bags. 2 Insulated ATC planes were warmer than the stripped-down Troop Carrier planes.
Flying in Alaska was hazardous; Newbeck Christian had been told that because of the terrain, their flights were second only to those over the Himalayas as far as dangerous flying. 3 In fact, the first flight nurse killed during WW2 lost her life in an airplane crash in Alaska. On 27 July 1943 Ruth Gardiner, who with Newbeck had graduated from the first flight nurse class and was assigned to the 805 MAETS, was en route with an enlisted technician to Unmak Island in the Aleutian chain to pick up a load of patients for air evacuation when the plane on which they were traveling crashed near Naknek, a small fishing village at the northeastern end of Bristol Bay about 300 miles southwest of Anchorage. "Ruthy," as she was known, was pinned in by cargo and was killed instantly from burns when the plan blew up on impact. 4 The members of the 805 MAETS must have been comforted to learn that as a tribute to Gardiner's sacrifice, in October 1943 an Army general hospital in Chicago was named in her memory. 5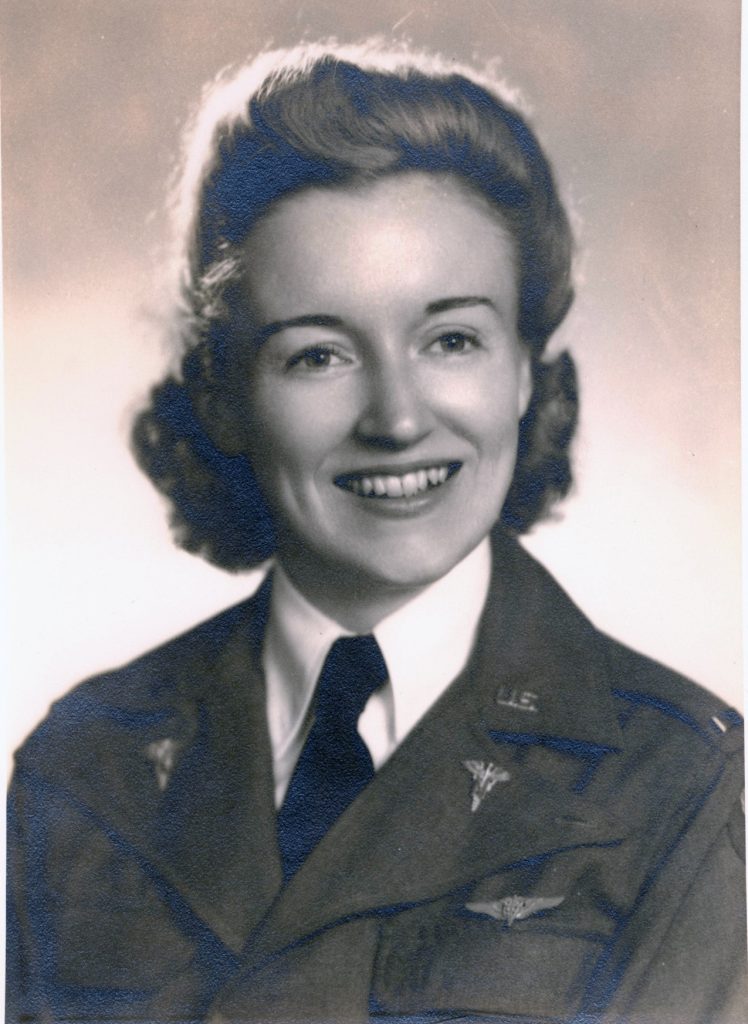 805 MAETS Ruth Gardiner (USAF Photo)
The first to experience air evacuation in an arctic climate, the work of 805 MAETS Flight A established its practicality in such an environment, paving the way for the additional Flights who joined them in Alaska as the war progressed.
Flight B arrived in Edmonton, Alberta (Canada) in June 1943; 2 flight nurse / enlisted technician teams remained in Edmonton, 2 were sent to Whitehorse in the Yukon Territory, and 2 to Fairbanks in Central Alaska on rotation. Not yet on flying status, the flight nurses helped out in station hospitals and dispensaries. But as Newbeck recalled, some enterprising officers found an even better use for her training when they sent her and an enlisted technician to the US with a trainload of patients bound for Iowa. Half of them were what Alaska natives called "bushwacky", meaning they had been away from civilization too long while out in the bush building the Alaskan Highway. The trip, which Newbeck later recalled with humor, was no laughing matter at the time, for the patients who had been taken to a military hospital overnight were given passes and returned to the train drunk. Newbeck and her enlisted technician spent the rest of the trip cleaning up after the patients, who could not "hold their liquor". It was an exhausting, "wild and wooly" trip, she concluded. Fortunately, after reporting back to her duty station, Newbeck began flight nurse duties, thus ending her short assignment as a train nurse. 6
Flights with ATC were long and tedious. The northwest route extended from Anchorage to its endpoint at Great Falls, Montana, stopping at Fairbanks, Whitehorse, and Edmonton, all major bases along the route. Miriam Britton had written chief nurse Mary Leontine at the School of Air Evacuation about the difficulty keeping her patients entertained on one of her ATC flights from Alaska in August 1943. 7 In February 1944 Newbeck wrote Leora Stroup, Leontine's replacement, about her experiences as a flight nurse in Alaska. With the temperature hovering around zero degrees, Newbeck was wearing "long woolies" underneath her flight suit and parka and was glad for all the warm clothing. Work was quiet at the time but offered Newbeck a chance to work on projects related to equipment suited for air evacuation in their location. For example, she was ready to test a chemically heated "jacket" to keep blood plasma from freezing at minus 40 degrees during administration. "My time is spent dashing from Lab. to parachute dept. to dispensary. More fun," she wrote to Stroup. 8
Years later, Newbeck Christian recalled "that time I got called an Eskimo in the Chicago airport … I was there in all my flying clothes, which was a parka and fur-lined boots and felt shoes. And the little boy says to his mother, … 'Oooh, Mother, there's an Eskimo!' … I kept right on going. I thought, Little boy, you've seen your Eskimo'." 9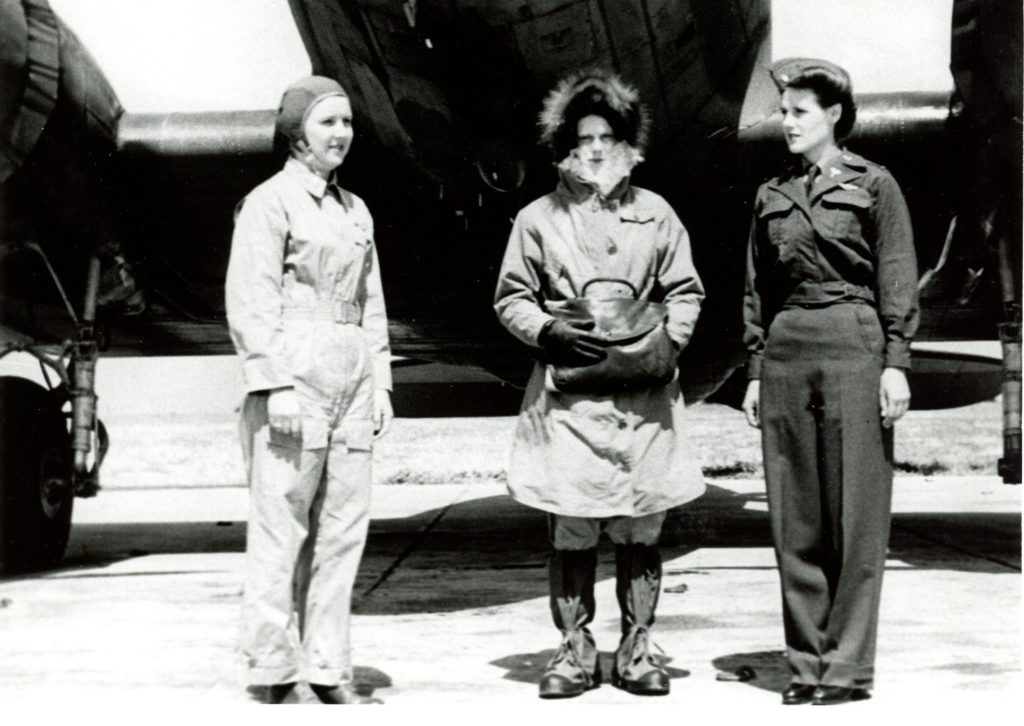 Flight nurses modeling uniforms for wear in
arctic climates (USAF Photo)
Flight C initially was sent from Bowman Field to Thermal Airfield in CA in support of maneuvers at the Desert Training Center for 3 weeks in February and March 1943, but their military orders were revised extending their stay indefinitely. A reassessment of the Flight's dual purpose of unit training and operational air evacuation determined that "The amount of training being provided by Flight 'C' by its being stationed at Thermal, California, is not considered sufficient to warrant its remaining permanently in that area." 10 In May 1943 the 6 nurses of Flight C were ordered back to Bowman Field to prepare for overseas duty. 11 Early in 1944 the Flight was sent to Central Africa, where they were stationed in, Accra (now Ghana) with flights to Karachi, Khartoum, and to Natal, Brazil on ATC planes. Flight nurse Dorothy Vancil Morgan remembered the beauty of Africa, the fun that they had, and the interesting flights. She elaborated:
We had to start out about 2 o'clock, between 2 o'clock and 4 o'clock in the morning to get to Ascension Island before the gooney birds woke up. Because gooney birds, when they flew, it wasn't safe for a plane to land, because they would get in the props [propellers]. So we would have to get into Ascension Islands before the birds were flying. Then, by the time we landed in Brazil, then, you see, it was dark, too. So they were long, very tiring trips. But, other than that, Africa was beautiful. The contrast of the colors, the swimming. The natives were lovely, very picturesque. The smells were different. The most vivid thing – my recollection of the first morning that I woke up, I thought, What is that noise out there? It was sort of a strum, strum, strum. And I said, "What on earth is that?" And there was a sort of humming with it. And they said, "It's the grass cutters." The fellows were out there with their scythes, and they were cutting the grass, but they had to have a musical instrument to beat. And that's what I woke up to in the mornings. When you mention Africa, and what struck you first, was this! And I thought, Well, this is funny. And then, as I said, the soil was red, everything was green. … Colorful! Colorful! 12
While the other 805 MAETS Flights were sent to the Desert Training Center in CA where soldiers were trained for overseas fighting, Flight D was sent on Detached Service to a similar site in FL. Like the training center in CA and AZ, the AAF Tactical Center prepared troops for deployment overseas, but focus at the AAF School of Applied Tactics was on airmen; the school trained pilots and newly formed crews in air warfare using airfields likely to be encountered ranging from bare fields to prepared runways. Like their sister Flights, Flight D personnel eventually were sent to overseas locations.
The 805 MAES was disbanded in November 1944. In a kaleidoscope of regroupings, Flights of the 805 MAES were redesignated or incorporated into the 829 MAES and then the 830 MAES before the end of the war, to be sent where the flight nurses and enlisted technicians were needed the most as the war entered its final year. Dorothy Vancil, who had flown in Africa with Flight C, for instance, later flew domestic air evacuation with the 830 MAES out of Memphis, TN on missions spanning the east and west coasts, transporting sick and wounded soldiers who arrived from overseas to stateside hospitals.
For more about the 805 MAES and 808 MAES, see Beyond the Call of Duty: Army Flight Nursing in World War II, Chapter 10. For more about flight nurses in the 805 MAES, see Blogs posted for
Mary Eileen Newbeck Christian 12 Mar 2016 and 18 Jul 2020
Dorothy Vancil Morgan 22 Feb 2016 and 28 Jun 2020
Audio recordings of these my interviews with these flight nurses are available at:
Mary Christian: https://www.iwm.org.uk/collections/item/object/80011343
Dorothy Morgan: https://www.iwm.org.uk/collections/item/object/80011351
Notes
Mary Eileen Newbeck Christian, interview with author, 21 May 1986.

Robert M. Conger, "History of the 'Flight A' Medical Air Evacuation Transport Squadron, 20 April 1943 to 1 June 1944", 805 MAETS, 10–11. [AFRHA MED–805–HI]

Mary Eileen Newbeck Christian, interview with author, 21 May 1986.

Conger, "History of the 'Flight A' Medical", 805 MAETS, 13.

"General Orders No. 63 Extract: Designation of general hospitals Section II," War Department, Washington, DC, 1 October 1943. [AFHRA MED–805–HI]

Newbeck Christian, interview with author.

Miriam M. Britton, letter to Mary R. Leontine, 15 Aug 1943.

Eileen Newbeck, letter to Leora Stroup, 4 Feb 1944. [AFHRA 141.28T (805 MAES)]

Newbeck Christian, interview with author.

Ehrling L. Berquist. "TCCMD 1st Ind. [Indorsement]", letter to Col Woolford, (Office of the Air Surgeon), 24 Jun 1943. [AFHRA 141.28T]

Richard L. Meiling, "Flight 'C', 805 the Medical Air Evacuation Transport Squadron", letter to Commanding General, AAF, Washington, DC, Attn: Col Wood S. Woolford, 21 Jun 1943. [AFHRA 141.28T]

Dorothy Vancil Morgan, interview with author, 15 May 1986.