The Fifth in a series of Blogs about the 31 Medical Air Evacuation
Transport Squadrons activated during WW2
to provide inflight nursing care to sick and wounded soldiers,
tended by Army flight nurses and enlisted technicians.
The focus is on the flight nurses.
MAETS Songs


Part 1
Song lyrics that MAETS flight nurses composed to well-known tunes of their day show a creative pride in their squadrons and eagerness to put into practice what they had learned at the School of Air Evacuation (SAE) at Bowman Field – the sooner, the better.
Departure for overseas duty was taking too long for the flight nurses of the 810 MAETS, who turned to song to lament the delay.
LAMENT
TUNE: MAN ON FLYING TRAPEZE
We fly thru the air with the greatest of ease,
Our burning desire is to go overseas;
Our greatest ambition, the soldiers to please
We're anxious to frustrate the foe.
Our muscles are bulging, our clothes getting tight,
We're eager and ready to get in the fight,
Now won't you take pity upon our sad plight?
Oh, General, please let us go.
We're stood at retreats 'till from cold we were blue,
And we've splinted and bandaged as well,
We're fully assured we can easily go –
Thru anything this side of Hell – 
A final verse begs General Grant, "please don't say 'No' to their request for movement orders. They were "fighting" to go, as their Ode makes clear.
ODE TO THE 810th
TUNE: MacNAMARA'S BAND
We're the fighting (mighty) 810th from Bowman, the best squadron on the field,
And our superiority to no one will we yield.
From life's trials and tribulations we ask no one to us shield,
We'll prove that we're in earnest once our orders are unsealed.
We're skinny and fat and lanky and short, some pretty and some cute,
And while we're very modest, our own horns don't like to toot
We can hold our own with the very best, as well as shoot and salute;
If General Pershing could see us now, for us we're sure he'd root.
Oh – the armies used to travel on their stomachs, so they say,
But modern Florence Nightingales go quite a different way,
For we're a part of something which is really here to stay,
And General Grant, we're out to prove that what we've said ain't hay.
General David N.W. Grant, the first Air Surgeon for the Army Air Forces, was a staunch supporter of the air evacuation program that was developed under his leadership and of the use of female flight nurses as the in-flight medical attendants.
Like the 810 MAETS, the 811 MAETS was "the Fighting 811th", though they marched to a different tune.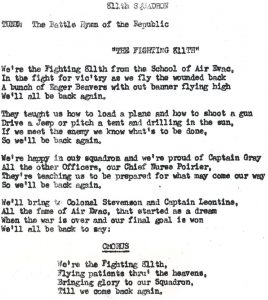 Captain Gray taught chemical warfare and was also a drill instructor; Lieutenant Mary Poirier was the 811 MAETS chief nurse. Colonel Ralph Stevenson was commander of SAE, and Captain Mary Leontine was the SAE chief nurse.
The 812 MAETS chose to praise General Grant, not plead with him, and promised to make him proud by bringing the wounded soldiers home.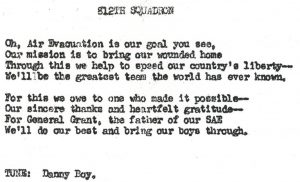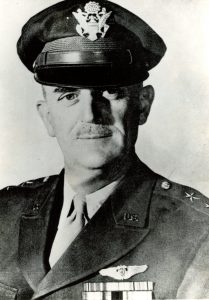 David N.W. Grant, Air Surgeon,
Army Air Forces (USAF Photo)
The 814 MAETS flight nurses graduated with the class of 43–H on 26 November 1943 and were honored to have General Grant as their graduation speaker. They perhaps sang him their musical rewrite of "Till We Meet Again':
TUNE: Till We Meet Again
The 814th will miss you when you go –
For you've been an inspiration you know
We've all pulled together in Air Evac.
For you were always there to back us
Patiently you bore our first review
You kept us on the beam the whole way through
Till we meet again.
Yet another tribute, with a handwritten notation "To Gen. Grant" is typed on the page that includes "The Fighting 811th". Since the general was graduation speaker for the class that included the 814 MAETS flight nurses on 26 November 1943, but not for the class of the 811 MAETS flight nurses who graduated on 13 August 1943, the song could be the work of either MAETS class.

For more about the musical side of the MAETS, see Beyond the Call of Duty: Army Flight Nursing in World War II and the Blog posted on 17 Jul 2017.