The Twenty–first in a series of Blogs about the 31 Medical Air Evacuation
Transport Squadrons activated during WW2
to provide inflight nursing care to sick and wounded soldiers,
tended by Army flight nurses and enlisted technicians.
The focus is on the flight nurses.
MAETS and the Focus on Europe
Part 1
810 MAETS Activated August 1943
811 MAETS Activated September 1943
813 MAETS Activated October 1943
814 MAETS Activated October 1943
815 MAETS Activated November 1943
The veteran 806 MAETS had been in the United Kingdom for almost 5 months when 5 additional MAETS were sent to England in the build-up to D Day:
810 MAETS arrived at Station #481 Bottesford in Dec 1943
811 MAETS arrived at Station #489 Cottesmore in Jan 1944
813 MAETS arrived at Station #482 Balderton in Dec 1943
814 MAETS arrived at Station #488 Fulbeck in Jan1944
815 MAETS arrived at Station #474 Welford Park in Mar 1944
Believing that Nazi Germany posed a bigger threat than Japan, the Allies had adopted a "Europe First" policy to subdue Hitler with the preponderance of Allied military materiel and personnel before turning their full attention to victory in the Pacific. While most Allied forces were sent to Europe for the drive toward Germany, military troops fought a war of containment against the Japanese in the Pacific, waging battles and securing enemy–occupied territory as they island–hopped toward the Japanese mainland.
Among the buildup of troops preparing to invade Normandy – over a million US troops alone – were the numerous MAETS ready to evacuate the casualties of that invasion as soon as their planes could land safely in France. Both combat–ready troops and air evacuation personnel were scattered throughout the United Kingdom, from Northern Ireland to Scotland to Cornwall in the southwest tip of England, many of them tenants at Royal Air Force stations. Flight nurse Ethel Carlson was surprised to see her first quarters when the 815 MAETS arrived at Welford Park in March 1944. The flight nurses expected to pitch tents and instead found themselves in a gorgeous mansion with formal gardens on an acre of land. They couldn't believe it – a great entrance hall, spiral staircase, heads of game on the walls, a marble fireplace. "And this was our own private little barracks." The luxurious accommodations only lasted a short time before she and other flight nurses from her squadron were sent to Membury (Station #466) for air evacuation duties, where their quarters were a "plain old GI–type building". 1
From their initial duty assignments, the MAETS were sent either in parts on Temporary Duty or Detached Service to other squadrons located elsewhere in the UK, or as a full squadron to a new location based on increasing – and decreasing – demands for air evacuation. The first air evacuation trips for some squadrons were to Maghaberry, Northern Ireland to pick up patients for return to England; other squadrons were sent by Flights or by flight nurse / enlisted technician teams to Prestwick, Scotland to fly on ATC planes with patients returning to the US. Still other squadrons sent personnel on Temporary Duty to other MAETS as needed.
The interchange of MAETS squadron personnel within England was ongoing before and after D Day. For instance, the 810 MAETS flew 19 missions to Maghaberry in February 1944; 3 of them included personnel from the 811 MAETS, 2 from the 813 MAETS, and 1 from the 814 MAETS. These flights were turned over to the 813 MAETS the next month. 2 April 1944 marked the beginning of 810 MAETS participation in air evacuation flights out of Prestwick, Scotland; the squadron had arrived at Bottesford in mid December 1943. When not engaged, the 810 MAETS personnel, like their colleagues in other MAETS, continued their training with lectures on medical subjects locally and short courses at the American School Center in Shriveham, participated in ditching and sea rescue exercises, and helped out in base dispensaries. Hikes, calisthenics, and athletics kept them physically fit. Squadron dances kept their morale up in times of inactivity. After D Day, the 810 MAETS began evacuating patients from France, and in July 1944 the squadron relocated to Station #467 Aldermaston. August 1944 was "the first month since our arrival in the United Kingdom that we sincerely felt that we were doing the type of work for which we were trained," the unit historian wrote. 3 In February 1945 the entire 810 MAES relocated to Prestwick, Scotland working with the 816 MAES to evacuate the sudden rise in casualties back to the US.
After its arrival at Cottesmore in January 1944, 811 MAETS flight nurse / enlisted technician teams were sent on Detached Service for training the next month, perhaps to the 810 MAETS, who had included 811 MAETS personnel in 3 of its air evacuation missions to Maghaberry. The 811 MAETS began their own flights to evacuate patients from Northern Ireland in April 1944. In May, following no air evacuation activities for the month, the 811 MAETS was sent to Prestwick to fly patients back to the US on ATC planes. "Naturally this was music to the ears of all personnel in this Organization," the squadron historian wrote. "The prospect of a trip back to the States was more than anyone had hoped for." 4 June 1944 was "an eventful month" for the 811 MAETS squadron historian commented, "Not only were we doing actual Evacuation work, but the more fortunate members of this Organization had the privilege of making at least one flight to the states," wrote the squadron historian. "The usual squadron activities were carried on, and because of the large number of patients evacuated, all personnel of this unit were kept busily and happily engaged." 5 The next month, the squadron left Prestwick for Station #486 Greenham Common from where they flew missions into France to evacuate patients back to England and from England to Prestwick. In November while still stationed at Greenham Common, 6 flight nurse / enlisted technician teams were sent to the southern coast of France in support of Operation Dragoon, but returned in December after limited air evacuation activity. March 1945 was the squadron's busiest month, spent evacuating patients from Germany, but activity decreased by April, when about half of the 811 MAETS was on Detached Service with the 814 MAES.
Like its sister squadrons, the 813 MAETS, which arrived at #482 Balderton the end of January 1944, participated in air evacuation missions initially when transporting patients from Maghaberry to England. While awaiting the increased activity that D Day would bring, flight nurses and enlisted technicians were sent in May on 30-day Temporary Duty to bomber bases to acquaint themselves with air operations and combat casualties; personnel also were sent on Temporary Duty to Prestwick to evacuate patients back to the US via Iceland and Newfoundland. After D Day, the 813 MAETS made 2 trips to France to evacuate patients back to England and sent some of its personnel on Temporary Duty to Stations #463 Exeter, #464 Merryfield, and #482 Balderton to assist with air evacuation. The squadron relocated to Merryfield in July, a move that increased their participation in air evacuation in flights from bases in England to Prestwick. That month the 813 MAETS lost its first flight nurse when Mary Jackley, enlisted technician John Salmi, and their 13 patients were killed on an air evacuation mission en route to Prestwick; the crash likely was weather related. In an August move to Station #519 Grove, the squadron worked with the 806 MAES in what the 813 MAES unit historian described as the "calm before the storm, the prelude to a bigger and greater period of evacuation." 6
September 1944 was momentous for the 813 MAETS in 2 ways. The squadron historian noted that during that month, "the Squadron evacuated more patients than they had previously evacuated in all months combined." And at the end of the month, on 27 September, flight nurse Reba Whittle and enlisted technician Jonathan Hill were on their way to pick up patients when their aircraft flew into German air space due to the pilot's navigational error. A crash ensued, near Aachen Germany, after which the plane caught on fire. Whittle and Hill escaped with non–life–threatening injuries but were taken POW and were imprisoned separately. Their squadron at first was told that Whittle and Hall were missing, a designation later changed to Missing in Action. They later learned about Whittle's repatriation in January 1945 in a prisoner exchange. 7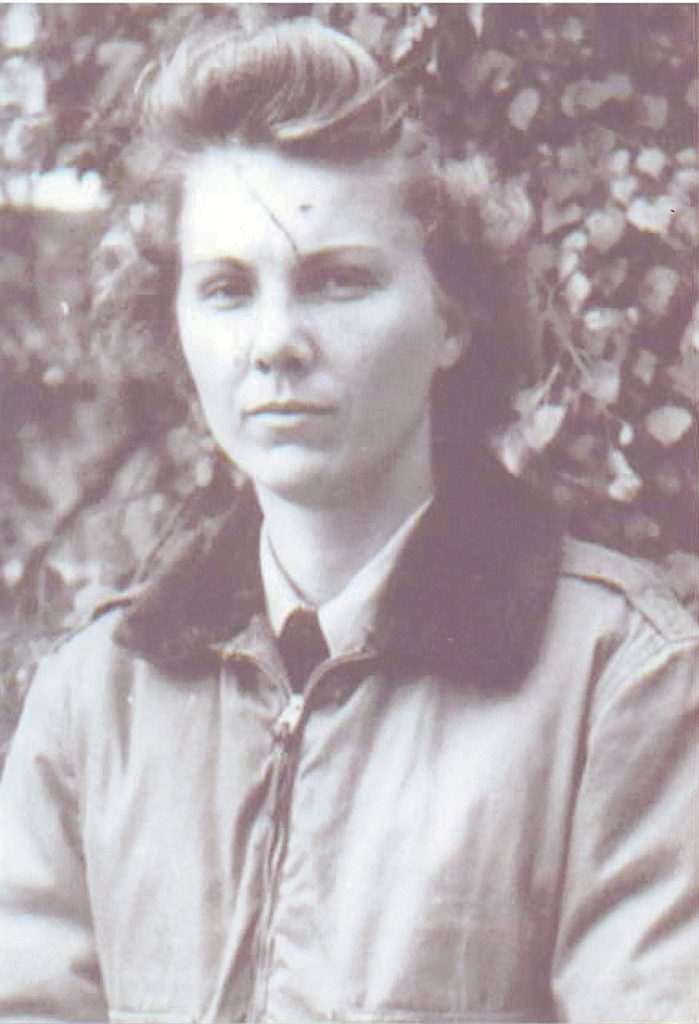 813 MAETS Reba Whittle after plane crash, 1944 (USAF Photo)
Finally, in October 1944, the 813 MAETS departed Grove for Station #385 Le Bourget in France. To the squadron historian, looking back on their "impressive accomplishments",
1944 saw the 813th Medical Air Evacuation Squadron become [one] of the greatest Air Evacuation Squadrons in the European Theater. Throughout the year they have looked towards doing their jobs more capably and more efficiently than rival squadrons. Throughout the year they have accomplished that aim.
Musing at year's end, he added: "What the future holds for the 813th is uncertain. One thing remains certain: Wherever the future takes them, no matter how difficult the task, the 813th will carry it out to perfection." 8
Air evacuation duty in the United Kingdom for the 814 MAETS was much the same as for the other squadrons with whom they shared missions. After arriving at Station #488 Fulbeck in January 1944, the 814 MAETS found themselves with time on their hands while waiting for the busyness of air evacuation to begin. To fill their time constructively, their flying personnel, like those in other squadrons, were sent in March to bomber bases for up to 30 days to gain an understanding of air operations and the casualties that might result. The squadron relocated to Station #469 Ramsbury in April. The next month flight nurse / enlisted technician teams went on Temporary Duty to Prestwick and 4 flight nurses, to Station #464 Merryfield. Following D Day, the 814 MAETS made its first trip to France on 20 June; that same month 5 of its teams were placed on Temporary Duty with the 811 MAETS at Prestwick for air evacuation flights back to the US. The personnel returned to their squadron the next month. Their first evacuation of patients from the Front to hospitals in France took place in September. Flight nurse Jean Herko was killed on a routine flight to Italy in February 1945; it was not a busy month for the squadron, for the unit historian notes: "This organization did not operate as a squadron for the greater part of February. However most of our flying personnel were placed on Temporary Duty or Detached Service with other air evacuation squadrons [810 MAES and 815 MAES]." 9 Nor did they operate as a squadron in March when 92% of their flying personnel were on Temporary Duty or Detached Service to other air evacuation squadrons at Prestwick (810 MAES) and at A–47 Orly Field near Paris (815 MAES) evacuating patients back to the US. The 814 MAES itself flew only 6 air evacuation missions during the month. 10
Like the 814 MAETS, the 815 MAETS personnel had little to do when they reached Welford Park in March 1944. Carlson Cerasale recalled that the flight nurses in her squadron didn't take well to inactivity – "there wasn't anything for us to do there" – so when the squadron wanted volunteers to go to bomber bases, Carlson signed up. Years later she described her days at Station #117 Kimbolton:
[W]e were supposed to go out with the ambulances to the flight line and wait, and when these planes came back from the mission, they had wounded aboard. And we were supposed to go out with the ambulance to the airplane and give this person on the plane whatever he needed in the way of first–aid. Of course, all the bomber crews usually gave them some sort of first aid, because they were trained to do that for each other. And then we were supposed to take care of this person who was injured from the base to the hospital, because most of the time they were injured too seriously to even stop at the dispensary. They just went right from the flight line to the closest hospital. 11
The bomber squadron had been having some terrible casualties, Carlson Cerasale said, but when the flight nurses arrived, the casualties stopped. The air evacuation personnel were invited to the early morning briefings, then they stayed out on the flight line, played baseball, smoked cigarettes, and waited for the planes to come in, after which they attended the debriefing.
And when the planes came back, then we would pour them – each crewmember got a shot of scotch, and then they always wanted more. But they had got one shot of scotch, and then we would talk to them. And I guess they felt like it would sort of relax them some before they got to their interrogation after the trip. 12
As soon as the flight nurses left, the bomber squadron started having casualties again – the 815 MAETS nurses had been their "good luck", they said.
D Day finally arrived. "On June 6th the Invasion began," wrote the 815 MAETS historian. "We eagerly watched the activities of other Air Evacuation Squadrons and were impatient for a chance ourselves." 13 The squadron finally got that chance on D Day + 17 when 15 flight nurse /enlisted technician teams were sent to Membury to fly to A–6 Beuzeville in France. But since the waiting patients filled only 3 planes, the rest of the teams flew back to England in 1 plane. The squadron evacuated patients quite regularly for the rest of the month, but many trips were dry runs with no patients needing evacuation.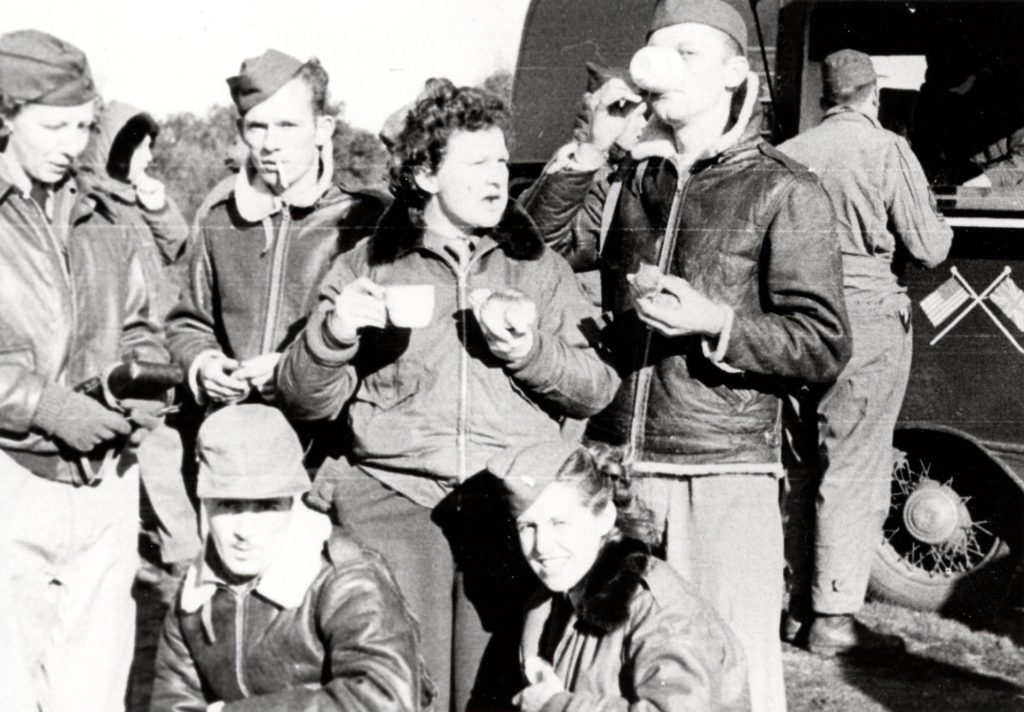 815 MAETS Ethel Carlson (bottom right) with air evacuation personnel (USAF Photo)
Flight C of the 815 MAES remained at Membury in July, while the remaining flying personnel were at Welford Park, some of whom went on Temporary Duty to Prestwick, others accompanying patients from England to Scotland. Many dry runs hampered air evacuation flights to France and back with patients. August was a record month for air evacuation, and September's numbers broke the previous month's records; with more airstrips being constructed in France, the 815 MAES could evacuate more patients back to England.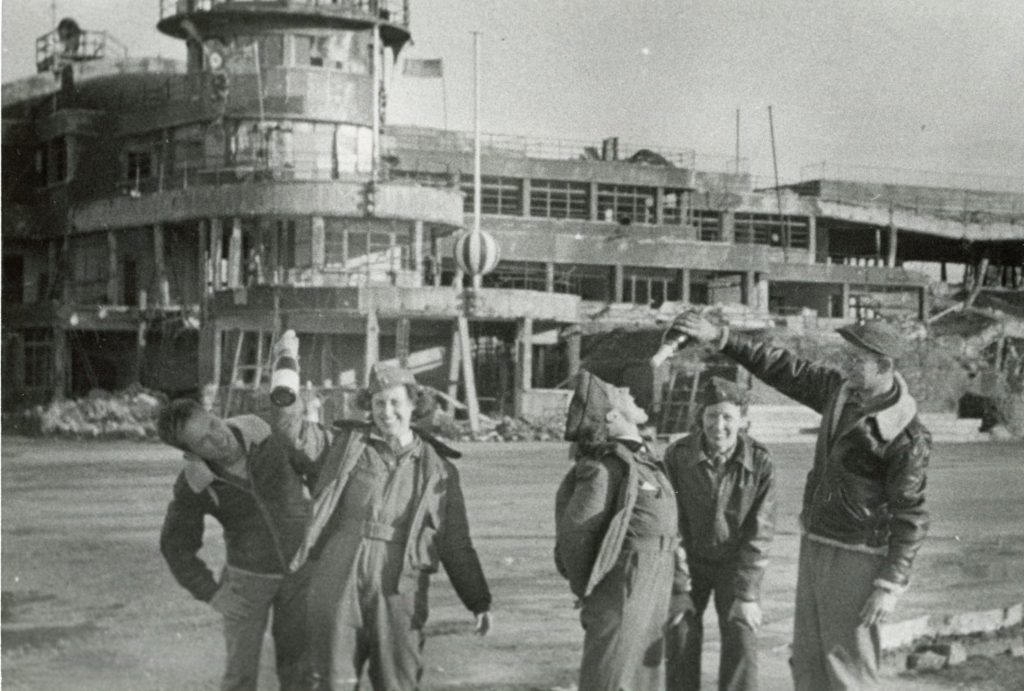 Ethel Carlson (2nd from right) and 815 MAES personnel in Paris
the day France was liberated, 28 August 1944 (USAF Photo)
In November, 5 air evacuation teams went on Detached Service to Marseilles in support of Operation Dragoon; in December, 10 teams from the 816 MAES were on Temporary Duty with the 815 MAES due to "operational necessity". 14 In January 1945 Flight C returned from Membury to Welford Park in preparation for the squadron's transfer to Orly Field, France, which occurred the next month. February was 1 of the most active months for the 815 MAES, when its personnel relieved the 806 MAES at Orly Field to evacuate patients to the Azores and on to Bermuda, Newfoundland, and the US. By March, business had not slacked off, and "Due to the lengthy time for flying personnel to return to the base for another evacuation trip, a hurried call was made with Command for extra flying personnel," the squadron historian wrote; additional MAES – the 814, 816, and 817 – were sent on Temporary Duty to their sister squadron. The number was "easily consumed", as 8 to 10 planes departed on the transatlantic run. 15 Also in March, half of the 815 MAES was sent on Temporary Duty to Naples, where they evacuated patients to Oran and Casblanca. More personnel transferred in and out of the 815 MAES that month than at any time since activation.
By May 1945 the 815 MAES flying personnel, along with those of the 810 MAES and 814 MAES, were incorporated into the 830 MAES, which had been activated in November 1944, and their former squadrons disbanded. Their work did not change, only their designation as they flew with the ATC. By then Ethel Carlson had herself been a patient on an air evacuation flight when an old illness flared up, necessitating her return to the US in February 1945.
For more about Reba Whittle as a POW, see Beyond the Call of Duty: Army Flight Nursing in World War II, Chapter 8. For more about flight nurses in the 815 MAES, see Blogs posted for Ethel Carlson Cerasale on 10 Jan 2016 and 16 May 2020.
Audio recordings of my interview with Ethel Cerasale is available at:
Ethel Cerasale https://www.iwm.org.uk/collections/item/object/80011345
Notes
Ethel Carlson Cerasale, interview with author, 7 May 1986.

Paul A. Clouse, "History of Squadron" [Feb 1944], 810 MAETS, 1 Mar 1944, 1–4; August M. Kleeman, Jr, "History of Squadron" [Mar 44], 810 MAETS, 1 Apr 1944, 2. [AFHRA MED–810–HI]

"History of the 810th Medical Air Evacuation Transport Squadron 1 August 1944 to 31 August 1944".

John W. Vertunc, "Brief Running Summary of the Month's Activities" [May 1944], 811 MAETS, 31 May 1944. [AFHRA MED–811–HI]

John W. Vertunc, "Brief Running Summary of the Month's Activities" [June], 811 MAETS.

"813th Medical Air Evacuation Transport Squadron Historical Report 1 August 1944 – 31 August 1944". [AFHRA MED–813–HI]

"813th Medical Air Evacuation Transport Squadron Historical Report 1 September 1944 – 30 September 1944".

Vivian C. Cipriano, 813th Medical Air Evacuation Transport Squadron Unit Historical Report 1 December 1944 – 31 December 1944". [AFHRA MED–813–HI]

"Historical Records 814th Medical Air Evacuation Sq". [AFHRA MED–814–HI]

"Historical Data 814th Medical Air Evacuation Squadron March 1945".

Carlson Cerasale, interview with author.

Ibid.

"Historical Report for the Month of June 1944", 815 MAETS. [AFHRA MED–815–HI]

"Historical Report for the Month of December 1944", 815 MAES.

"Historical Data, 815th (US) Med Air Evac Sq March 1945".