The Twenty–seventh in a series of Blogs about the 31 Medical Air Evacuation
Transport Squadrons activated during WW2
to provide inflight nursing care to sick and wounded soldiers,
tended by Army flight nurses and enlisted technicians.
The focus is on the flight nurses.
Changing MAES to Meet Wartime Needs
823 MAETS Activated Mar 1944
824 MAETS Activated Mar 1944
825 MAETS Activated Apr 1944
826 MAETS Activated May 1944
827 MAETS Activated Jun 1944
To meet wartime air evacuation needs, the 823 MAETS through the 827 MAETS all were disbanded within their first year of activation and reformed as numbered Flights of the 830 MAES in November 1944. Most of the nurses in the 823 MAETS were 14 April 1944 graduates of the flight nurse course at Bowman Field, KY. Shortly after completing their training, the 4 Flights of the 823 MAETS were assigned PCS (Permanent Change of Station) to 4 US Army airfields stateside for duty with the ATC – Flights A and B reported to Memphis Municipal Airport, TN; Flights C and D, to New Castle AAB, Wilmington, DE. Each Flight was tasked with the air evacuation of patients from debarkation hospitals on the coasts to other hospitals within the US. In June 1944, Flights C and D were reassigned to Romulus AAF, MI and Long Beach AAF, CA on Temporary Duty for ATC air evacuation missions at those locations. 1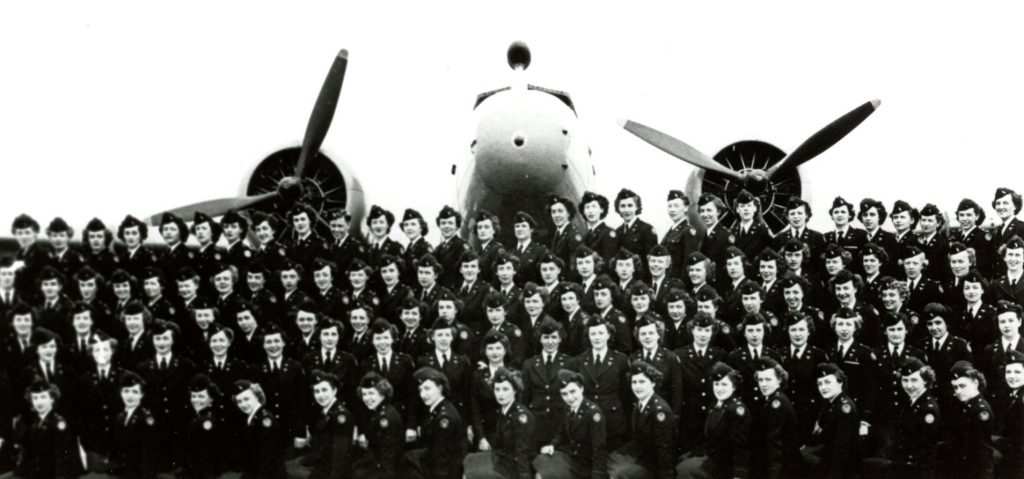 Flight Nurse Class 44-C Graduation Photo, mostly 823 MAETS
through 826 MAETS,14 Apr 1944 (USAF Photo)
The 823 MAES, like the 822 MAES, was short–lived in its original squadron designation. Writing about her squadron years later in The Story of Air Evacuation, Valeska Staudt Somlo, who was in Flight D, said, "The 823rd as a squadron ceased to exist", for after transporting patients within the US from May to December 1944, the squadron's lettered Flights were redesignated as numbered Flights in the 830 MAES. In their new role they flew out of Hickam Field, Oahu, evacuating wounded soldiers from remote battlefields of the Pacific. "Lest we forget", Somlo concluded, the flight nurses of the 823 MAES then 830 MAES "served with loyalty and zeal for duty rarely, if ever, equaled". 2 Some of those nurses – Gerda Bowhuis and Seraphine Petrocelli formerly of the 801 MAETS – were Air Medal recipients. Because their squadron had been sent overseas before the flight nurse course began, both nurses had returned to Bowman Field, KY to complete the course at the School of Air Evacuation and officially earn their wings. Other flight nurses assigned to the 823 MAETS had been among the 807 MAETS personnel downed in Albania – Ann Kopsko, Ann Markowitz, Elna Schwarnt, and Lillian Tacina. They, like their 801 MAES flight nurse colleagues, brought "valuable experience and knowledge" to the 823 MAETS. 3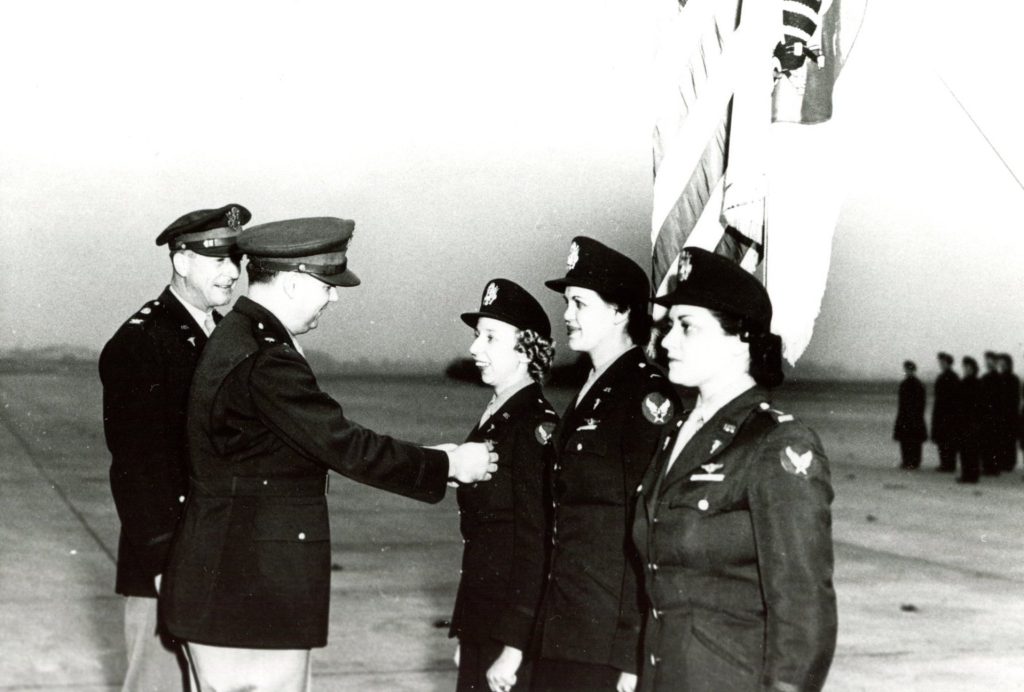 Gerda Bouwhuis, Seraphine Petrocelli, and Regina Brown
receive Air Medal, Bowman Field, KY, 1944 (USAF Photo)
The 824 MAES likewise lost its identity when disbanded and reformed as Flights of the 830 MAES under ATC control in the last years of the war. In its early days, the 824 MAETS drew personnel from the 825 MAETS and 826 MAETS to bring its flight nurses up to authorized strength. Flight nurse Mary Oldenhoffe Stehle of the 824 MAETS remembered her air evacuation assignment to fly domestic air evacuation missions when based at Palm Springs, CA. The squadron transported patients from Letterman General Hospital in San Francisco to hospitals for definitive treatment or to a hospital closer to a soldier's home, making several stops over the 3–day cross-country trips. The flight nurses' accommodations at their home base were not "the Ritz", Stehle said, but the weather was gorgeous. 4 In June 1944, 4 Flights from 824 MAETS were assigned to 825 MAETS. 5
After its activation in April 1944, the 825 MAETS was held at Bowman Field while awaiting Operation Dragoon and the invasion of southern France. The squadron finally left Bowman Field in June and sailed in July to Oran, Naples, and on to Casablanca, which was headquarters for the squadron; 2 Flights remained in Casablanca where they evacuated patients to the Azores, 1 Flight went to Karachi (India at the time), and 1 Flight to Cairo, Egypt. Air evacuation personnel in Naples transported patients to Casablanca. In November 1944 Flights A, B, C, and D of the 825 MAES became Flights 11, 12, 13, and 14 of the 830 MAES but retained their current locations and air evacuation duties. 6
In January 1945 flight nurse Wilma Shackelford's Flight of the 825 MAES moved to Karachi from where they flew to Abadan, Iran to refuel and on to Cairo. She recalled, "I think I remained overnight at every airfield from Casablanca to Karachi because of weather or aircraft mechanical problems.  … My roommate and I returned so many times to Cairo with engine failures that the sergeant in charge of passenger manifests would tell the passengers if we were on board they would probably be back. One night we returned to Cairo three times." 7
"The sqdn. 826 was destined to be only a training one," wrote Mildred Osmun Beeman, of the 826 MAETS, then the 830 MAES.
We were all anxious to go [overseas] – trained special and definitely were the best! … We had all had our shots, our 201 [personnel] files were complete – all we needed was orders. However, the 826th was broken up and personnel sent out as replacements. They called all of us leaving Bowman at that time the 830th. 8
The now defunct 826 MAETS was sent first to Hickam Field and from there either to Australia or to Saipan. Osmon was Flight leader for the nurses in Saipan, one of whom was Hilda Halverson.
Halverson remembered "irregular flights" from Saipan to different islands, up to 16 or 18 hours long, with only a short 1– or 2–hour layover before starting back with patients on board. She learned to sleep "real good" on the floor of the plane when deadheading, all the way to Manila or to Guam where they refueled.
We'd always go back to Honolulu. And after so many trips, you got a trip to the States to take a plane out. But we went into Okinawa, and we went into Clark [Field in the Philippines] – [w]ell Leyte first, then Clark" where "there was always a roster … and you knew you were the third plane or the second plane, and you knew the second nurse that came in, then you knew what time that you'd be alerted. 9
The Japanese would strafe Saipan, and Halverson spent many evenings in the bomb shelter. "[W]e'd sit there, and it was just like at a night ballgame. They'd come over, 'Oh, there we go.' And the B–29s, you could see them from our bomb shelter." The flight nurses would clap, "Good for them!" Like Lee Holtz in the 801 MAETS, Halverson had her own story of a sergeant who had guard responsibility for the nurses. "And he was the most magnificent man," she said. She would come in on a flight, the Japanese would begin their strafing, "and he'd, 'All right, Lieutenant. Come on, come on. Get up, wake up,' you know, and get you awake to get in the bomb shelter. … Oh, he was grand. He didn't have an easy job." 10
She was never afraid, Halverson said, except on Kwajalein, where there was a Peeping Tom. Seeing the fighting at Saipan or at Clark did not scare her. Halverson was at Clark playing bridge when the first atomic bomb was dropped and still waiting on a flight out when the second one was dropped. Halverson's thoughts turned to the casualties: "And you're geared, as a nurse you're always thinking, what can you do for the next person. … Well, I thought of all the burns. It was a terrible thing, to the civilians." 11
As was the case with previous squadrons, the 827 MAETS remained at Bowman Field while awaiting overseas orders, using that time to continue training activities. The squadron's chief nurse Mary Wiggins had flown with the 801 MAETS in the Pacific so brought a wealth of practical as well as administrative experience to her new assignment. In July 1944, 19 of the squadron's nurses, as well as 21 enlisted technicians, were sent on Detached Service with ATC to participate in domestic air evacuation missions from the Memphis, TN Municipal Airport – 6 teams – and from Romulus AAF, MI – the other 13 teams. 12 By December 1944, Flights A, B, C, and D of the 827 MAES had been incorporated into the 830 MAES as lettered Flights 35, 36, 37, and 38. 13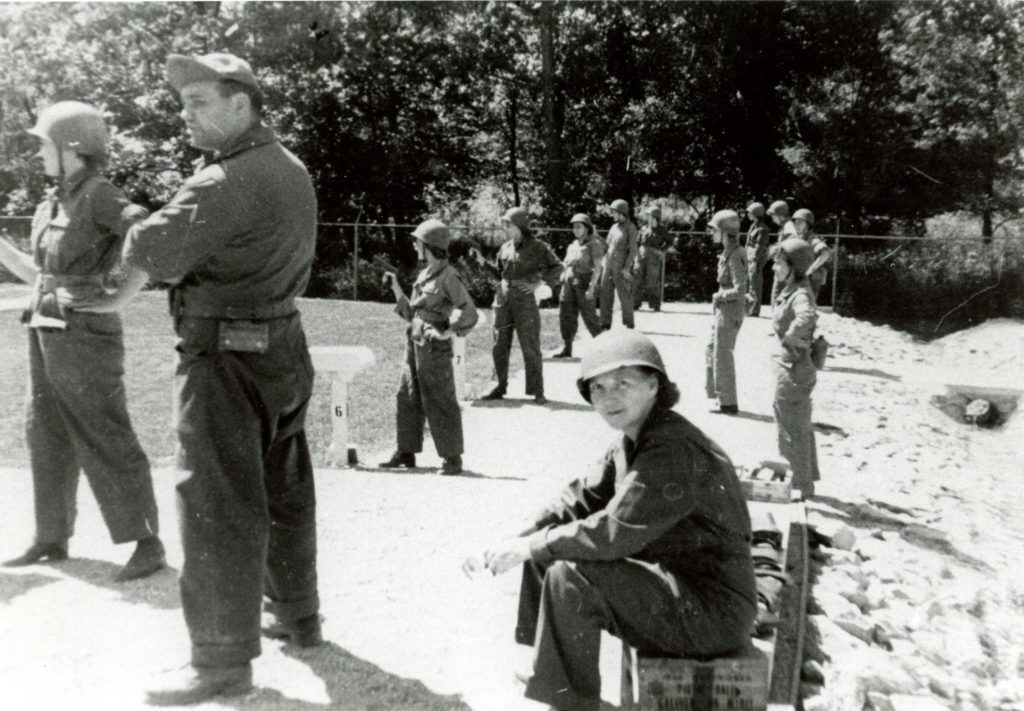 Mary Wiggins on rifle range, Bowman Field, KY 1944 (USAF Photo)
Doris Campbell, who graduated from the flight nurse course in May 1944, was among the flight nurses assigned to the 827 MAETS just days after the squadron was activated the first of June. A US Army Air Forces Flight Record and Log for sale on eBay and Worthpoint in 2021 compiled by Campbell, listed of the 827 MAETS and 829 MAES – no longer accessible – offers a means by which to recreate her work as a flight nurse and augments the available sketchy squadron histories. Her flights are similar to those of flight nurses who were sent on Detached Service or Temporary Duty to stateside locations for evacuation of patients before their squadrons were alerted for overseas duty. From 28 July 1944 through 18 September 1944, Campbell logged flights to:
Arizona: Tempe
California: Hamilton Field; Long Beach; Mills Field; Palm Springs
Kansas: Topeka
Michigan: Romulus Field
Mississippi: Jackson
New Mexico: Santa Fe
New York: Mitchel Field
Tennessee: Memphis
Texas: Dallas; El Paso; San Antonio
The week of 13 to 18 September 1944 offers an example of Campbell's itinerary on an air evacuation mission that began in Memphis and stopped at Jackson, Dallas, Tempe. San Antonio, El Paso, Long Beach, Mills Field, Hamilton Field, Palm Springs, El Paso, and Santa Fe before returning to Memphis.
The log book allegedly lists Hickam Field on 10 October 1944, after which Campbell flew in the Pacific on air evacuation missions with an itinerary covering the sites of the major battles in which the Allies had engaged the Japanese: Tarawa in 1943; Kwajalein, Los Negros, Biak, Saipan, Guam, and Leyte in 1944; and Okinawa in 1945, with Johnston Atoll used as a refueling point.
For more about MAES in WW2, see Beyond the Call of Duty: Army Flight Nurses in World War II. For more about a flight nurse in the 822 MAES, see Blogs posted for Hilda Halverson Chamberlain on 20 Nov 2016 and 20 Mar 2021.
An audio recording of my interview with Hilda Chamberlain is available at:
https://www.iwm.org.uk/collections/item/object/80011346
Notes
James H. Douglas, "Assignment of Air Evacuation Flights", 22 Apr 1944; Richard L. Meiling, "Assignment of Air Evacuation Flights", 27 Apr 44. [AFHRA 141.28T]

World War II Flight Nurses Association, The Story of Air Evacuation 1942 – 1989 (Dallas, TX: Taylor, 1989), 93.

"History 823rd Medical Air Evacuation Transport Squadron Second Installment April 1, 1944 to April 30, 1944", 1. [AFHRA MED–823–HI]

The Story of Air Evacuation, 94.

"History of Flight 'C' 825th Med Air Evac T Squadron", 24 Sep 1945; "History 825th Medical Air Evacuation Transport Squadron Second Installment June 1, 1944 – June 30, 1944". [AFHRA MED–825–HI]

Robert F. Futrell, Development of Aeromedical Evacuation in the USAF, 1909–1960, Historical Studies No. 23 (Maxwell AFB, AL: USAF Historical Division, Research Studies Institute, Air University; Manhattan, KS: Military Affairs / Aerospace Historian, 1960), 394–95.
The Story of Air Evacuation, 94; Diane Burke Fessler, No Time for Fear: Voices of American Military Nurses in World War II (East Lansing: Michigan State University Press, 1996), 117–19.

Ibid., 95.

Hilda Halverson Chamberlain, interview with author, 21 Jun 1986.

Ibid.

Ibid.

"First Installment Organizational History of 827th Medical Air Evacuation Sqdn"; "Second Installment Organizational History of 827th Medical Air Evacuation Sqdn". [AFHRA MED–827–HI]

John M. Cabrese, "Headquarters Ferrying Division, Air Transport Command, Cincinnati 2, Ohio, General Orders Number 17", 6 Dec 1944. [AFHRA MED–830–HI]