The Third in a series of Blogs about the 31 Medical Air Evacuation
Transport Squadrons activated during WW2
to provide inflight nursing care to sick and wounded soldiers,
tended by Army flight nurses and enlisted technicians.
The focus is on the flight nurses.
Army Flight Nurse Training
Thanks for the memories of drilling in the sun
And making it seem fun and eating sand
And killing flies and guarding with a gun
Oh thank you so much.
Thanks for the memories of swimming every week
Of forming in the street of scrubbing clothes
And dusting doors and bathing in the creek
Oh thank you so much.
Class songs such as this one written by members of the fifth class of Army flight nurses, which graduated from the AAF School of Air Evacuation at Bowman Field, KY in August 1943, often recalled their training and its rigorous military preparation with a hint of nostalgia. This training evolved and became more relevant over the course of the war as input from MAETS overseas helped determine what was most useful to include in course work and practical instruction. Personnel in the 801 MAETS and 802 MAETS received an abbreviated course of training prior to immediate departure for overseas assignments; time permitted only brief instruction in first aid, medical and surgical care of patients en route by air, and the loading and unloading of patients from the planes, as well as the course on chemical warfare. 1 By January 1943, members of the 803 MAETS and additional squadrons benefited from more thorough training in a didactic course of study, with responsibility for flight nurse training delegated to Leora B. Stroup, a former ANCOA nurse who arrived at Bowman Field from Walter Reed Army Hospital in Washington, DC where she was chief of the air evacuation unit.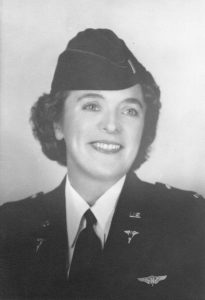 Leora B. Stroup, 1942 (AMEDD)
The physicians and enlisted technicians assigned to the MAETS had some previous military experience gained from their respective basic military training courses; many of the flight surgeons were also pilots. The nurses, however, had come into the military straight from civilian life where most had worked in hospitals or as airline stewardesses. The main focus of training for air evacuation in the early stages therefore was to indoctrinate nurses into the military way of doing things. These women knew how to be nurses – now they needed to learn how to be military nurses. As supply of nurses for air evacuation duty caught up with initial demand, however, those selected for this work were drawn from nurses with more experience in Army hospitals and thus had a better grasp of military life.
Anticipating the establishment of a school of air evacuation, Brigadier General Grant, AAF Air Surgeon, prepared a tentative outline for the training of flight nurses and enlisted technicians covering a wide spectrum of subjects: aeromedical nursing, physiology, and classification of patients; air evacuation records, operations, and logistics; tropical and arctic medicine; tactics of air evacuation; and field sanitation and hygiene. Special studies included mental hygiene and its relation to air evacuation, air routes of the world, climate studies in the theaters of operation, desert medicine, and oxygen indoctrination. Instruction would span 4 weeks of lectures, demonstrations, and field problems. 2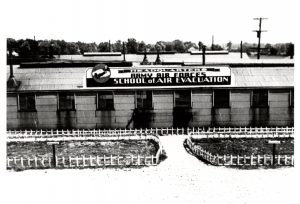 AAF School of Air Evacuation, Bowman Field, KY (USAF Photo)
Missing from this first outline of flight nurse training was the subject of courtesies and customs of military service, which was incorporated into the training program beginning with the first graduating class of flight nurses. How to salute was one of the first military courtesies that the flight nurse students were taught. A reporter for the Cincinnati Enquirer wrote that Stroup's account "of how the students learned to salute might rate a Broadway or Hollywood laugh: It seems some of them couldn't stage a salute without an oomph wiggle or almost a jitterbug act." 3 The students received military indoctrination outside the classroom in the form of marches, drills, and parades. The nurses put all of their training to the test when they went out on bivouacs and maneuvers that introduced them to simulated wartime scenarios.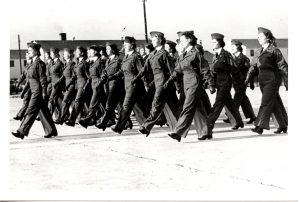 Flight Nurses at Bowman Field, KY (USAF Photo)
The first nurses to benefit from an organized course for the study of air evacuation duties began their rigorous program in January 1943. Former ANCOA nurse Eileen Newbeck, a member of the first class, recalled the inaugural course that she and her classmates experienced as jungle, desert, and arctic medicine "practically read out of medical books to us – because there were no books for us to study from – in order to acquaint us with the different diseases we would have in the various countries where we might be sent." 4 Training was fast paced, and 4 weeks later a formal graduation ceremony held in the base chapel at Bowman Field on 18 February 1943 marked successful completion of their studies. The occasion was a milestone for both the 39 Army nurses who had earned the coveted title of flight nurse and for the school that had offered them the knowledge and skills to reach this point in their military nursing service.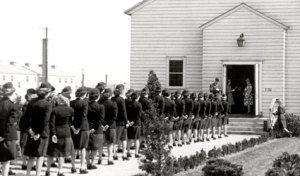 Flight Nurse Graduation Day, Bowman Field, KY (USAF Photo)
Beginning with the second class, the flight nurse course was extended to 6 weeks, which acquainted the flight nurses, enlisted technicians, and medical and administrative officers, now trained as complete squadrons, with their special responsibilities for "administering medical treatment, classifying patients, loading patients on the plane, and treatment while in the air".  At the conclusion of training, these personnel were ready as a group for further training or assignment overseas.
As had been the case for the 4–week program, the lengthened course focused on academic education and practical training in air evacuation and military indoctrination. For the loading and unloading of litters, the fuselage of a Troop Carrier C–47 that had crashed was given new life – and the name "Limited Service" – as a valuable training aid. The nurses also accrued at least 18 hours of flying time during the 6–week course. 6
New to flight nurse training in the summer of 1943 was swimming class. "What is gained if, after months of costly training, a soldier is lost in two minutes with the capsizing of a ship or while trying to reach shore from an invasion barge?" Air Forces officials asked. For flight and medical crews whose aircraft might have to ditch at sea, water survival was an ongoing concern. A historian for the 803 MAETS wrote of the compulsory swimming classes: "Some of the nurses and men had no desire to swim, but there is no place for crocheters in this group, so all learned to swim or sink. None sank." 7
Adele Edmonds, a member of the seventh class of flight nurses that graduated on 26 November 1943, recalled that the course was "Very rugged. Very rugged. You knew that everything you participated in would make or break you. … And bivouacking and marching and constantly being on the run to go to class or to do something – your day was just terrifically full. You'd be exhausted at night. … And we just used to talk about these things and wondered how you could ever survive war, actual war, which we knew we were eventually going to be in when we finished." 8
Lengthening the flight nurse course to 8 weeks in 1943 gave time for instruction on ward management and operating room technique and 2 weeks of specialized training at cooperating hospitals in Louisville. Each nurse was teamed with an enlisted technician and taught him about intravenous therapy, catheterization, oxygen administration, and other emergency procedures. 9 The work also served as a refresher course for the nurses who had not worked in hospitals recently. In theory at least, the nurse would always fly with the same technician, so the training dyad was a way of strengthening this working relationship. It also offered much needed practical experience for the enlisted technicians who lacked some of the nursing skills that would be required of them on air evacuation flights. Beginning in 1944, enlisted technicians had already completed a 6–week course in field medicine at another base before the start of their specialized air evacuation training.10
Graduation marked the culmination of the flight nurses' time at Bowman Field, and with it the right to wear flight nurse wings. As 819 MAETS unit historian June Sanders, who graduated from the course in January 1944, wrote, "Believe me! They weren't handed to us on a silver platter. We wear them with the knowledge that we successfully completed a difficult course." 11 Nurses of the 821 MAETS who were in the class that began training in January 1944 recalled the "day of days" of their graduation from the course as "more thrilling than when we graduated from our hospital nurses training, if possible. For on this day we were presented with these coveted little gold wings of a Flight Nurse. It really was a super special occasion. We had been drilled, briefed, rehearsed, lectured, inspected, and cautioned to within an inch of our lives …" 12 After their graduation ceremony the flight nurses, who had been assigned to their MAES before the course began, started training with their squadrons as a unit while awaiting deployment overseas.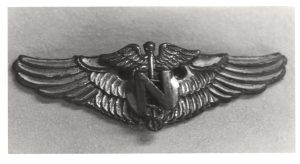 Flight Nurse Wings, 1943 (USAF Photo)
In October 1944 training for flight nurses and enlisted technicians was transferred from the School of Air Evacuation, which was subsequently closed, to the AAF School of Aviation Medicine at Randolph Field in San Antonio, TX where flight surgeons were trained. The flight nurse course was lengthened to 9 weeks, divided into 3 equal phases. During the final phase, flight nurses and enlisted technicians flew on missions transporting sick and wounded soldiers to hospitals within the continental US under the watchful eye of an accompanying instructor. Staff considered these training flights "the most important part" of the flight nurse course, because they helped determine a student's suitability for air evacuation duty in support of the actual mission of patient transport. 13
In August 1945 after the American bombing of Hiroshima and Nagasaki brought the war to an end, the flight nurse course was cut back to 6 weeks – with 2 weeks for each of the 3 phases – in anticipation of the increased number of flight nurses needed in the Pacific. "Many are called, but few are chosen" was the description Lieutenant Colonel Richard L. Meiling, Chief, Operations Division, Office of the Air Surgeon, gave regarding the selection and preparation of personnel for air evacuation duty. 14 His use of the biblical analogy was particularly apt in the case of flight nurse training for which in the first year of the program, volunteers were 20 times greater than nurses selected for the course.15 During World War II only 500 or so nurses served with MAES.16
For more about the training of Army flight nurses, see Beyond the Call of Duty: Army Flight Nursing in World War II, Chapter 3.
Notes
"Historical Narrative of the 801st Medical Air Evacuation Transport Squadron", 25 May 1942 – 1 Jun 1944, 2. [AFHRA MED–801–HI]

David N. W. Grant, letter with enclosure to Eugen G. Reinartz, 11 Aug 1942; "Training Program for Nurses and Surgical Technicians of the Medical Department, Army Air Forces, in Air Evacuation", [1942], 1. [AFHRA 141.28R]

Margaret Kernodle, "Army Nurses Sprout Wings", Cincinnati Enquirer, 23 Mar 1943.

Mary Eileen Newbeck Christian, interview with author, 21 May 1986.

Mae M. Link and Hubert A. Coleman, Medical Support of the Army Air Forces in World War II (Washington, DC: US Government Printing Office, 1955), 372–73.

"History of the School of Air Evacuation", 1 Aug 1943, 6–7. [AFHRA 280.93–3]

"Nurses and Curriculum," 803 MAETS. [AFHRA MED–803–HI]

Adele Edmonds Daly, interview with author, 20 Jun 1986.

Link and Coleman, Medical Support, 378.
Robert F. Futrell, Development of Aeromedical Evacuation in the USAF, 1909–1960, Historical Studies No. 23 (Maxwell AFB, AL: USAF Historical Division, Research Studies Institute, Air University, and Manhattan, KS: Military Affairs / Aerospace Historian, 1960), 90.

June Sanders, "Headquarters 819th Medical Air Evacuation Transport Squadron 30 April 1944 Squadron History Initial Issue", 1. [AFHRA MED–819–HI]

[Katherine Hack], "History: Nurses View Point, 20 January 1944 – 31 December 1944", 821 MAES, 2. [AFHRA MED–821–HI]

"Annual Report of the 27th AAF Base Unit", AAF School of Aviation Medicine, Randolph Field, TX, 30 Jun 1945, 82–83. [AFHRA 287.86–1B]

Futrell, Aeromedical Evacuation, 84.
Ruth Y. White, "Army Nurses – in the Air", American Journal of Nursing 41 (Apr 1943): 344.
16. Official Guide to the Army Air Forces (New York: Simon and Schuster, 1944), 94.