USAF Flight Nurse Photo Album
When stationed as a flight nurse with the 9th Aeromedical Evacuation Group at Clark Air Base, Philippines, 1973–75, I put together a hand-printed photo album illustrating a "typical" day of air evac duty. The photos, all but one of which I took myself, were taken on several different missions in 1975 and do not represent an actual flight plan.
In this typed version of the original text, which I printed in block capitals, I have divided the content into three sections across three blogs: PRE-FLIGHT, INFLIGHT, and POST-FLIGHT. Page numbers refer to the original photo album.
INFLIGHT
Page 11
And we're off, flying to wherever patient requirements demand. It could be to tan Son Nhut Air Base, Vietnam …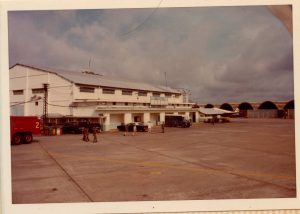 FLIGHT LINE, TAN SON NHUT AIR BASE, VIETNAM
… or a flight taking us over Mount Fuji and into Yokota Air Base, Japan.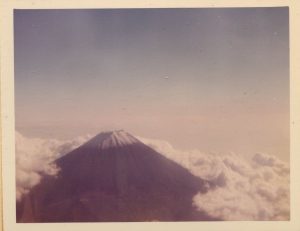 MOUNT FUJI FROM WINDOW OF C-9A
Page 12
Kunsan Air Base, Korea might be our next stop …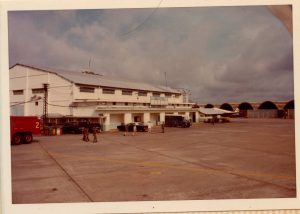 FLIGHT LINE, KUNSAN AIR BASE, KOREA
… or NKP Air Base, Thailand. Wherever we go, there are patients waiting.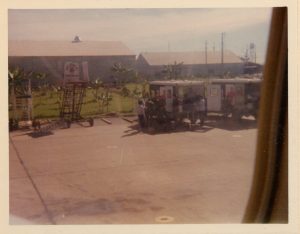 FLIGHT LINE, NKP AIR BASE, THAILAND
Page 13
Sgt Girshovich, second med tech for the mission, deploys the litter ramp at an en-route stop at Marine Corps Air Station (MCAS), Iwakuni, Japan. SSgt Harris acts as spotter to insure the area is clear.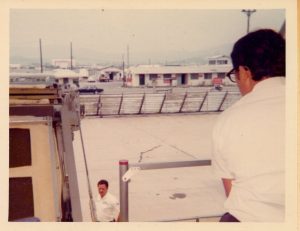 DEPLOYING LITTER RAMP FROM INSIDE C-9A
The ramp is fully deployed and ready for use by litter bearers.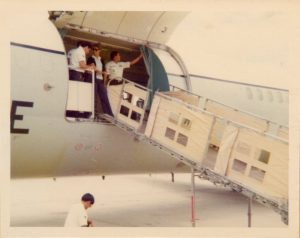 C-9A LITTER RAMP DEPLOYED
Page 14
A litter patient is deplaned onto the waiting ambus at Yokota Air Base, Japan.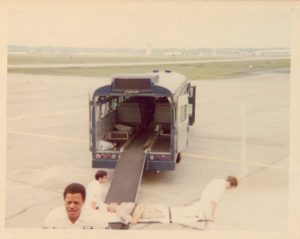 AMBUS READY TO RECEIVE LITTER PATIENTS FROM C-9A
A fire truck meets the C-9A at every stop. This one is at MCAS, Iwakuni. We refuel with patients on board, and a fire truck always must be standing by.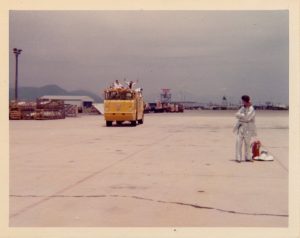 FIRE TRUCK STANDING BY FOR PATIENT LOADING ON C-9A
Page 15
Lt Holland, MCD, is receiving a patient report from the air evac clerk at one of the en-route stops.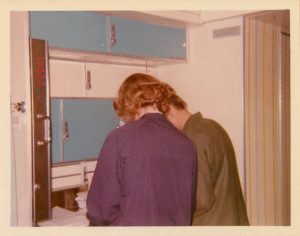 LT HOLLAND AT MEDICAL CARE AREA ON C-9A
In flight, Lt Holland and Sgt Lloyd could be discussing a patient's condition or any number of subjects.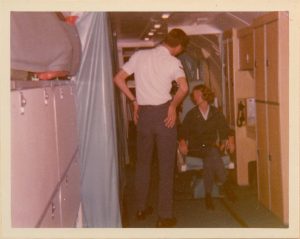 LT HOLLAND AND SGT LLOYD AT MCD STATION
Page 16
"IF YOU NEED ANYTHING PLEASE LET US KNOW. WE HOPE THAT YOU HAVE A COMFORTABLE FLIGHT …." Once the Fasten Seat Belt sign is turned off, patient care continues. We pass out pillows and blankets, magazines, and juice, coffee, or milk. Litter patients are given backrests to elevate their head and shoulders for comfort. Here you see TSgt Higuera, the third tech, and SSgt Spradlin, the flight mechanic.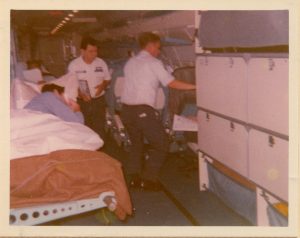 CREW PROVIDING PATIENT CARE ON C-9A
As part of her check-ride, Lt O'Malley is demonstrating to the flight examiner how to put a casualty life vest onto a litter patient. The "patient" is flight mechanic SSgt Stanke.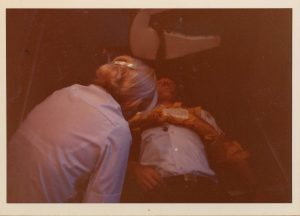 CASUALTY LIFE VEST DEMONSTRATION
Page 17
SSgt Harris, flying as third med tech, is taking an inventory of all supplies and equipment that we carry in the cabin of the C-9A. He's sitting at the MCD desk. His primary job as third tech is to on-load and off-load patient baggage. Thus SSgt Harris has given the third med tech the nickname "Redcap".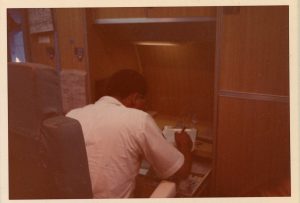 SSGT HARRIS TAKING INVENTORY AT MCD STATION
SSgt Harris again, this time flying in the senior tech position. The senior tech is the chef on the mission and is the person who cooks and serves patient meals.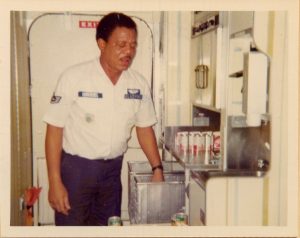 SSGT HARRIS IN AFT GALLEY PREPARING MEALS
To be continued.