In Memoriam
World War II Army Flight Nurses
Jenevieve (Jenny) Boyle Silk, who died in June 2017, was the last living of the 25 World War II US Army flight nurses whom I interviewed in 1986 for what became Beyond the Call of Duty: Army Flight Nursing in World War II. I clearly remember each of my interviews with these remarkable women and still can picture them and hear their voices when I think of them.
Twenty of these interviews are now digitized and available as audio recordings on the Imperial War Museum website. Access the interviews here:
https://www.iwm.org.uk/collections/search?query=judith+barger&filters%5BwebCategory%5D%5BSound%5D=on&pageSize=&pageSize=
My short remembrances are in the order in which I interviewed these former flight nurses.
Agnes Jensen Mangerich (1914–2010)
807MAES, North Africa
Agnes Mangerich née JENSEN (Grace Hospital School of Nursing, Detroit, 1937) worked at Henry Ford Hospital for about two and a half years until she joined the Army in 1941. The military was recruiting nursing students "like mad," Jensen said, so she decided to give Army nursing a try for a year. She joined ten months before Pearl Harbor was attacked and was assigned to Fort Benning, GA, where she was given some training in anesthesia. Agnes did not learn about flight nursing until she was already in the military. She and another nurse saw something posted on the bulletin board about nurses for air evacuation and decided to change their ward "from the floor to the sky – Let's join air evac." Agnes applied, was accepted, and left for Bowman Field, KY in May 1943, graduating from the flight nurse course on 2 July 1943 with Dorothy White as a classmate. Slated for the 809 MAES while at Bowman Field, Agnes volunteered to join the 807 MAES, which was short of nurses, to start flight nursing sooner. The 807 MAES traveled initially to North Africa before relocating in Sicily.
Recovering from a bout of dysentery, Agnes could have stayed in quarters the day she and half of the squadron's flight nurses and enlisted medical technicians were loaded on a plane to fly from their duty station at Catania to two bases in Italy to set up air evacuation from those locations; Agnes was among those going to Bari. They never made it, for their plane encountered stormy weather, a radio malfunction, and German anti-aircraft fire. When their fuel ran out, the pilots had to make a forced landing in Albania behind enemy lines.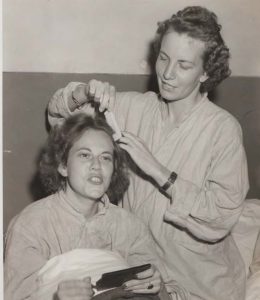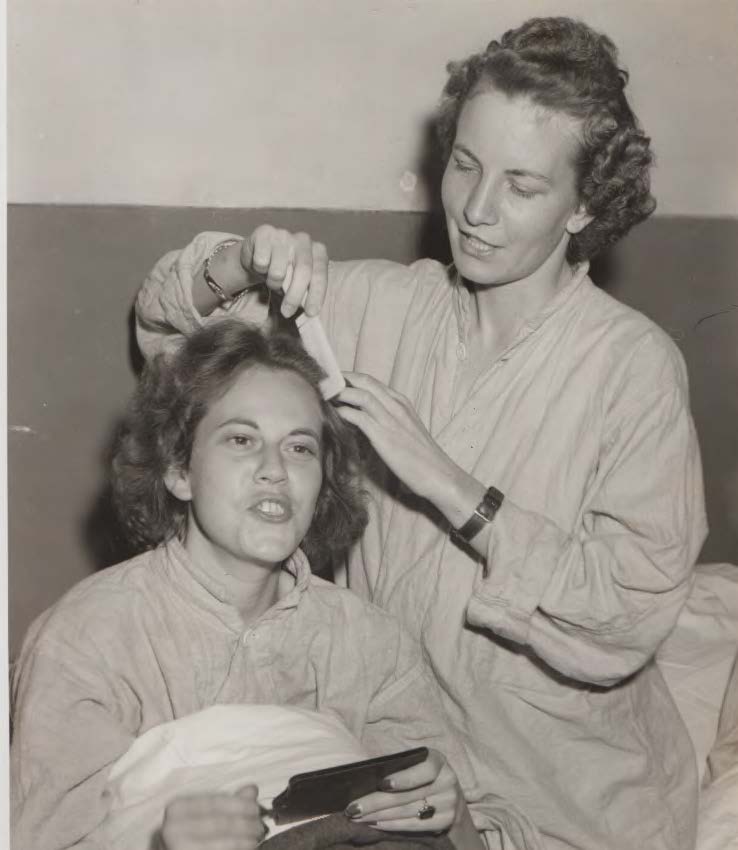 Agnes Jensen (right) and flight nurse colleague at 26th General Hospital, Bari, Italy
after return from Albania [USAF Photo]
Agnes recalled the moment she resigned herself to the inevitability of the situation: Well, we're either going to hit a mountain or run out of gas, one or the other. She was scared but, because sleep always had been her forte, she glanced at the others, settled into her bucket seat, and thought, This is it, … Well, what the hell. I'd rather be sleeping. The crew chief was injured on impact, but the downed crew members all survived the landing. They spent the next several months evading the Germans while making their way to Allied territory, where the crew were taken by boat to Bari, Italy – Agnes's original destination – for medical checks at the 26th General Hospital before returning to their squadron. Agnes wrote about their experiences in Albanian Escape: The True Story of U.S. Army Nurses Behind Enemy Lines (University Press of Kentucky, 1999). She died in 2010 at age 95.
To listen to my interview with Agnes Mangerich, click on the link:
https://www.iwm.org.uk/collections/item/object/80011352
Interviewed 25 May 1986, Cocoa Beach, FL
Learn more about my interview with Agnes on the Blog for 24 Jul 2016.
To be continued