Meet the former US Army flight nurses whom I interviewed for
Beyond the Call of Duty: Army Flight Nursing in World War II.
In 1986 as part of my research about flight nurse history and coping with war, I was privileged to interview 25 former US Army nurses about events of their flight nurse duty in World War II. Most of them are now deceased, but their stories live on in Beyond the Call of Duty: Army Flight Nursing in World War II.
The journal I kept of my time with each of them in 1986 when writing my dissertation offers a brief personal glimpse of these remarkable women. I am sharing edited versions of these journals, in the order in which the interviews took place. The actual interviews are in separate documents.
18th Interview
Dorothy White Errair
807 MAES Mediterranean
24 May 1986
Dorothy arrived late at the World War II Flight Nurses Reunion at Cocoa Beach, Florida, but I am so glad to have had the opportunity to meet her, talk with her socially about some of her experiences, and conduct an interview for the dissertation. A member of the 807 MAES assigned in Sicily and later Italy, Dorothy was among the 12 flight nurses "left behind" when the other 13 flight nurses in her squadron wound up evading the Germans when their plane landed in enemy-occupied Albania during World War II.
Dorothy is one of those people who is a delight to know. Indeed, I have made several such acquaintances during the reunion. She is a truly dedicated nurse, only recently retired, who supports causes with a zest that wins my respect and admiration. Whether it is the 100th graduating class of flight nurses at the School of Aerospace Medicine or the Vietnam Nurses Memorial, she will speak for the cause with enthusiasm. She approached the interview in that same spirit.
Interviewing Dorothy was a pleasure. An operating room nurse from her earliest days of nursing, Dorothy is an active member of the American Association of Operating Room Nurses (AAORN). At a recent AAORN convention in Anaheim, California Dorothy was pleased and relieved to see that the goals and principles she had espoused for OR nursing in her own career were being espoused capably by a new generation of OR nurses. She is a person who believes in and fosters the phrase in the original Flight Nurse Creed, "I will be faithful to my training and to the wisdom handed down to me by those who have gone before me."
Dorothy was very expressive in sharing her experiences. She needed little guidance to reveal a wealth of valuable data concerning how at least one flight nurse coped with various wartime situations. Finding humor in those experiences was one way that Dorothy coped.
Some of Dorothy's stories: When one of the planes on which she was to evacuate patients was covered with glossy prints of nudes, Dorothy figured, "Now, my poor patients have had enough problems, they don't need any more." So she dressed the entire ceiling of the airplane with Band Aides, giving her patients a good laugh. Another plane was no laughing matter, for it had transported mules before the patients were brought on board. With only a broom to clean up the mess, the crew chief did his best to clean the plane's cabin. When the patients, who didn't know about the mules, complained about the odor, Dorothy said, "Well, I can't smell a thing. It's just your imagination." And she talked like that all during the flight. One of the patients said, "Nurse, you better get your nose checked." Dorothy laughs as she recalls the incident now and adds that to this day, anytime she sees a mule, she smells it.
Dorothy died in 2015.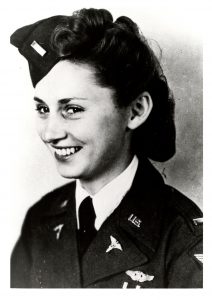 Dorothy White. (USAF Photo)