Personal Reflections on Coping with War
Part 11 When Humor Helped
For the 25 flight nurses interviewed for Beyond the Call of Duty: Army Flight Nursing in World War II, wartime service was beset with potentially difficult circumstances that could exact a toll on even the most hardy of nurses. To cope with these professional and personal challenges, these women drew on many sources of support, tangible and intangible, physical and mental. Social support, one's physical condition, and abilities and skills fostered in nurses' training all helped the flight nurses cope behaviorally with the multiple demands of the war. Reasonable expectations, devotion to duty, an optimistic outlook, and faith in one's God, one's colleagues, and one's self all helped them cope emotionally with the war.
Some events of wartime service were humorous at the time; others were recalled with humor only after the passage of time. Louise Anthony, whose 816 Medical Air Evacuation Squadron (MAES) was sent to England in preparation for D Day, gave a humorous account of her classmates pitching their tents in the frigid January temperature during bivouac as part of flight nurse training. It took all day to issue the "armloads" of field equipment – tent pegs, shelter halves, mess kits, canteen and its holder, flashlights, clothing, "everything imaginable" – to their large class.
Then they announce, "All right, fall out in the morning with all your field equipment, and we will show you how to put it together." The weather was so cold, we all wore at least two sets of underwear and our slacks, plus any outer clothing we could put on top. And we fell out. It was dark. These four squadrons lined up … and frequently someone would drop a tent peg, and we'd giggle. And they'd bend over to pick up the tent peg and drop their canteen or something else. And then somebody else would try to help pick up one of the things dropped, and she would drop something. And [Edith] Jackson was standing out in front. Each of the flight leaders was standing in front of the squadrons to take the morning report and turn and give it to Jackson, who would turn and give it to the captain standing behind. And Jackson was yelling out periodically, "Attention!" which couldn't be had under the circumstances very easily. And finally she yelled out, "You are supposed to fall in at attention!" And then she added, "To the best of your ability." The captain behind Jackson doubled up laughing – was almost on the ground laughing. …
Then when we did go out, … the captain who was in charge said … "Is anyone cold?" And there were about twenty of the girls [who] said, "Oh, I'm freezing! Oh, it's so cold, I'm dying!" And I thought, Jiminy Christmas, why can't they keep their mouths shut? And all of a sudden he said, "All right. Everybody fall into line." And he ran us around the field about four times – to warm us up.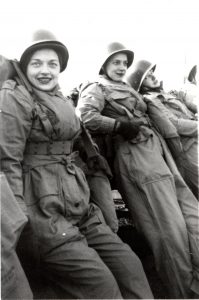 Flight Nurses Resting Before 13-Mile Hike
Bowman Field, KY, January 1944
[Author's Private Collection]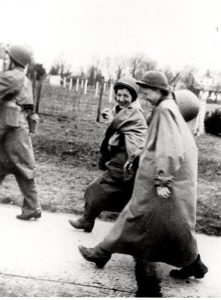 822 MAES Flight Nurses on March Back from Bivouac
Bowman FIeld, KY, March 1944
[Author's Private Collection]
Waiting at Camp Kilmer, New Jersey to ship overseas, flight nurses in Anthony's squadron found that their chief nurse had a sense of humor when dealing with some of the more unrealistic demands of military life. The squadron was at Camp Kilmer during winter when it was very cold, and someone complained to the chief nurse that her flight nurses were not standing reveille in the mornings. Louise Anthony continued the story: "And she [chief nurse] said, 'Well, we're shipping out overseas. And if you think I'm going to make them stand it out in the cold, and they'll catch pneumonia or something else – they're standing it inside.' So she called a meeting and told us about it, and she said, 'You are standing reveille every morning.' She said, 'I don't care if you stand it in bed. But you are standing reveille.'"
When Eileen Newbeck and her flight nurse colleagues in Squadron A of the 805 MAES reported for duty in Edmonton in Alberta, Canada in June 1943, base officials did not know what to do with them. The nurses were not yet placed on flying status. Newbeck recalled that some enterprising officers sent her and an enlisted technician to the United States with a trainload of patients bound for Iowa. The patients filled one full carload and part of another, and half of them were what Alaska natives called "bushwacky," meaning they had been away from civilization too long while out in the bush building the Alaskan Highway. "They looked a little funny," Newbeck said.
The trip, which Newbeck later recalled with humor, was no laughing matter at the time. When the train stopped at the various stations, guards had to be posted at each exit on the train, and Newbeck discovered that no arrangements had been made for food. When the patients were taken to a ward at a military hospital for an overnight stay, the medical staff gave them passes. The patients, who had found the post exchange, returned drunk from beer. The next day when ready to board the train, the patients were still drunk and so sick that the train master refused to let them board until they had been frisked to remove any bottles of alcohol. Newbeck and her enlisted technician spent the rest of the trip cleaning up after the patients, who could not "hold their liquor." It was an exhausting, "wild and woolly" trip, Newbeck concluded. Fortunately after reporting back to her duty station, Newbeck began flight nurse duties, thus ending her short assignment as a train nurse.
Adele Edmonds in the Pacific with the 801 MAES, recalled an event that "turned out very funny," though she did not see the humor in it at the time. She had deadheaded into an island, perhaps Green Island, arriving late at night to pick up patients the next day, and the island had no quarters for women. She wanted to sleep in the plane when she found herself in that situation, but it was against the rules. Nor was she permitted just to sleep in a chair as she requested. Base personnel finally found a place for her in a supply room, but she wouldn't sleep there unless someone else was with her. So the pilot stayed in the room as well. "They made a big joke out of it, and of course they razzed the pilot unmercifully," Edmonds said. "I often wondered about him," she concluded. "I imagine he made a big story about it, and that was fine."
Flight nurse Dorothy White with the 807 MAES in the Mediterranean found humor in what she found inside two planes that were converted to transport patients in Italy. One of the planes
was just covered with glossy prints, and they were all nudes. So I figured, Now, my poor patients have had enough problems, they don't need any more. So I took my band-aides, and I dressed the entire ceiling of the airplane. I dressed them. But, see, they were glossy prints, and I knew that the Band-aide wouldn't hurt the print – they could take it off later. But the patients laughed more about my band-aides. … they thought the band-aides were funny.
Another plane was filled with a terrible odor.
Come to find out they had transported 12 mules north to the front line, and when they unloaded the mules, the crew chief discovered that there was no water – there was no way they could clean the interior of the plane. So they did find a broom, and they swept it clean, but, oh, it needed to be hosed down but good! But when we put our patients on board, and the patients complained, "What is that odor?" You know, I am the biggest liar you ever saw. And I said, "Well, I can't smell a thing." You know. "It's just your imagination," you know. And I talked like that all the way back. And one of the fellows said, "Nurse, you better get your nose checked."
But they didn't know about the mules, and I figured, Well, if they get an infection … they're going to say that the mules did it. And I made sure they didn't touch the floor or anything. It was just that the odor was so terrible. But, so, unto this day, when I see a mule, I smell 'em.
A sense of humor helped Hilda Halverson, who flew with the 826, later 830 MAES in the Pacific when the ants found her underwear during an overnight stop. She had deadheaded into Clark Field in the Philippines. She recalled, laughing:
I was tired and dropped my panties and my bra on the floor, and I kind of think I had nylons or – oh, yeah – I think I had hose. And when I went to reach for them in the morning, there was nothing left but that elastic around the panties. The ants had eaten it. I was so surprised.
A sense of humor also helped flight nurses of the 830 MAES assigned to Harmon Field in Newfoundland resolve the frustrating situation of 25 women sharing one bathroom. When the one toilet kept overflowing "accidentally" out into the Officers Club, management finally gave the flight nurses a larger bathroom.
The flight nurse narratives reveal a multitude of coping strategies – reliance on the support of colleagues and friends as well as of family back home, devotion to their country and its war effort, and an ability to find humor in situations that could be perceived as frustrating.