World War II Army Flight Nurses in Song
Training for World War II flight nurses at Bowman Field, Kentucky was a memorable event for those army nurses selected for air evacuation duty. I detail that training in Beyond the Call of Duty: Army Flight Nursing in World War II.
Class songs often commemorated this time of rigorous military preparation. Familiar tunes fit with new words gave the flight nurses songs that fostered patriotism, esprit de corps and pride in their squadrons. The fourth class to graduate, on 2 July 1943, drew on the 'Battle Hymn of the Republic' for inspiration:
Verse 1. Oh we went to school at Bowman and we earned a pair of wings,
Not for just the honor that the wearing of them brings,
Air Evacuation is the goal of all our schemes,
As we go flying on!
Verse 2. The training we've completed hasn't done us any harm,
The sight of the enemy will cause us no alarm,
We're fighting for a chance to speed our country's liberty,
As we go flying on!
Chorus. Soaring through the heat of tropics,
Flying through the cold of arctic,
Bringing back our wounded soldiers,
So they can fight again. *
To the tune of 'Thanks for the Memories', members of the fifth class waxed nostalgic – though perhaps with tongue in cheek – as their 13 August 1943 graduation date neared:
Verse 1. Thanks for the memories of drilling in the sun
And making it seem fun, and eating sand
And killing flies and guarding with a gun,
Oh, thank you so much.
Verse 2. Thanks for the memories of swimming every week,
Of forming in the street, of scrubbing clothes
And dusting doors and bathing in the creek,
Oh, thank you so much.
Verse 3. Many's the time that we sweated,
We thought that the day'd never come.
But we'll make it, so help me, we'll make it,
We'll show them we're all not so dumb.
Verse 4. Oh, thanks for the memories of sleeping in the rain,
Of spiders in the dark, of pitching tents
And digging holes for purposes quite plain,
Oh, thank you so much.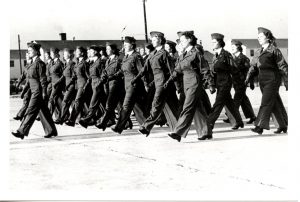 Flight nurses on parade at Bowman Field (USAF Photo)
The flight nurses of the 810 Medical Air Evacuation Squadron [MAES] took musical flight with 'The Man on the Flying Trapeze' for their Lament:
Verse 1. We fly thru the air with the greatest of ease,
Our burning desire is to go overseas;
Our greatest ambition, the soldiers to please,
We're anxious to frustrate the foe.
Verse 2. Our muscles are bulging, our clothes getting tight,
We're eager and ready to get in the fight,
Now won't you take pity upon our sad plight?
Oh, General, please let us go.
The general to whom they referred was General David N.W. Grant, Air Surgeon, Army Air Forces, who had oversight of the medical air evacuation program, which he and his staff had instituted.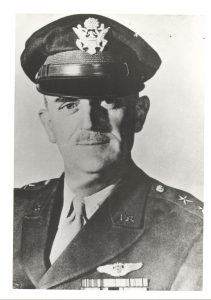 David N.W. Grant, Air Surgeon, Army Air Forces (USAF Photo)
An Ode to the 810 MAES was sung to 'MacNamara's Band':
Verse 1. We're the fighting (mighty) 810th from Bowman, the best squadron on the field,
And our superiority to no one will we yield.
From life's trials and tribulations we ask no one to us shield,
We'll prove that we're in earnest once our orders are unsealed.
Verse 2. We're skinny and fat and lanky and short, some pretty and some cute,
And while we're very modest, our own horns don't like to toot,
We can hold our own with the very best, as well as shoot and salute.
If General Pershing could see us now, for us we're sure he'd root.
Verse 3. Oh – the armies used to travel on their stomachs, so they say,
But modern Florence Nightingales go quite a different way,
For we're a part of something which is really here to stay,
And, General Grant, we're out to prove that what we've said ain't hay.
The 811 MAES composed their own battle cry to the tune of the 'Battle Hymn of the Republic':
Verse 1. We're the Fighting 811th from the School of Air Evac,
In the fight for vic'try as we fly the wounded back.
A bunch of Eager Beavers with our banner flying high,
We'll all be back again.
Verse 2. They taught us how to load a plane and how to shoot a gun,
Drive a Jeep or pitch a tent and drilling in the sun,
If we meet the enemy we know what's to be done,
So we'll be back again.
Verse 3. We're happy in our squadron and we're proud of Captain Gray,
All the other Officers, our Chief Nurse Poirier,
They're teaching us to be prepared for what may come our way,
So we'll be back again.
Verse 4. We'll bring to Colonel Stevenson and Captain Leontine,
All the fame of Air Evac that started as a dream.
When the war is over and our final goal is won,
We'll all be back to say:
Chorus. We're the Fighting 811th,
Flying patients thru' the heavens,
Bringing glory to our Squadron,
Till we come back again.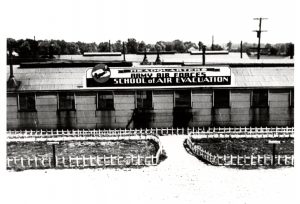 School of Air Evacuation, Bowman Field, KY (USAF Photo)
The nurses of the 822 MAES, who were experiencing one of the less glamorous aspects of air travel, brought some humor to the situation to the tune of 'Paper Doll':
Verse 1. I'm going to buy a paper bag that I can call my own,
A bag that all us nurses need up there.
For when this evacuation plane takes off of this terrain,
I'll need a bag to fill up with some …… air.
When we come down to earth there'll be some waiting;
We'll get this plane in readiness for war.
I'd rather have a paper bag to call my own
Than stay and G.I. up the floor.
Verse 2. I guess I brought a million bags or more,
Oh, I guess I should have bought a dozen more.
I just told the crew, that my job was new,
I need a stomach made of iron ore.
Oh! it's tough to make the grade at Air Evac,
But it ain't so tough as cleaning up this fact.
I'd rather have a paper bag to call my own
Than stay to G.I. up the floor,
I really mean it!
Than stay to G.I. up the floor.
Some songs were composed to honor military leaders whom the squadrons recognized for their role in advancing air evacuation and the flight nurse role. General Grant was the recipient of musical tributes, one of which, to the tune of 'Pack up Your Troubles', the 811 MAES flight nurses sang to the general in person when he visited Bowman Field:
Here's to the friend of every Air Force Nurse.
We're Proud to say,
He helped to make the School of Air Evac.
What it is today:
Gave us wings and flying clothes,
We're trained for come what may. So,
Let's give a rousing cheer for General GRANT!
He's here, to-day.
Not to be outdone, the 812 MAES flight nurses composed their own tribute to General Grant to the tune of 'Danny Boy':
Verse 1. Oh, Air Evacuation is our goal you see,
Our mission is to bring our wounded home.
Through this we help to speed our country's liberty –
We'll be the greatest team the world has ever known.
Verse 2. For this we owe to one who made it possible –
Our sincere thanks and heartfelt gratitude –
For General Grant, the father of our SAE,
We'll do our best and bring our boys through.
Colonel Ralph Stevenson also received a musical tribute. As Commandant of the 349th Aeromedical Evacuation Group, Stevenson oversaw the training of the flight nurses. The nurses fittingly set their song for their 'dandy' commandant, to 'Yankee Doodle Dandy':
He's an SAE-E dandy,
He's a good scout thru and thru.
A commandant that we are proud to claim,
He made this the best of all schools.
Where ere the AAF may send him,
We will cheer him all the way.
Col. Stevenson goes to Stout
To carry on his duties,
He is our AAF, SAE pride and joy.
Stevenson had orders transferring him to Stout Army Air Field in Indianapolis as First Troop Carrier Command Surgeon.
The flight nurses of Class 43H that graduated from the School of Air Evacuation at Bowman Field on 21 January 44, set the words of their class song to the Cornell Alma Mater. Their own Alma Mater praised their instructors and chief nurse and vowed to apply what they had learned to save the lives of the wounded soldiers under their care:
Verse 1. Hail to thee our Alma Mater,
Hail to SAE,
When we're far across the water,
We'll remember thee.
Hail to all our fine instructors
And our chief Nurse too,
We'll remember all you've taught us
We will see this thru.
Verse 2. We will care for all the wounded
In the skies above,
We will see that they return
To the ones they love.
When the battle cry is over
And we're here to stay,
We will praise our Alma Mater
For the part she played.
Ethel Carlson, Jenny Boyle, Brooxie Mowrey and Frances Sandstrom, graduates of that class, were sent to England, where they flew into Normandy after D Day, and all saw it through without losing a patient inflight. Each of these flight nurses is featured in previously posted blogs on 10 January 2015, 20 January 2015, 14 August 2016 and 18 December 2016, respectively.
* All songs included in this blog are from the Leora B. Stroup papers archived at the AMEDD Museum at Fort Sam Houston, San Antonio,Texas. I have corrected obvious typographical errors found in the original typed documents and added missing punctuation when needed to make the songs more readable – and singable.