In Memoriam
World War II Army Flight Nurses
Jenevieve (Jenny) Boyle Silk, who died in June 2017, was the last living of the 25 World War II US Army flight nurses whom I interviewed in 1986 for what became Beyond the Call of Duty: Army Flight Nursing in World War II. I clearly remember each of my interviews with these remarkable women and still can picture them and hear their voices when I think of them.
Twenty of these interviews are now digitized and available as audio recordings on the Imperial War Museum website. Access the interviews here:
https://www.iwm.org.uk/collections/search?query=judith+barger&filters%5BwebCategory%5D%5BSound%5D=on&pageSize=&pageSize=
My short remembrances are in the order in which I interviewed these former flight nurses.
Frances Sandstrom Crabtree (1920–2006)
816 MAES, Europe
Frances Crabtree née SANDSTROM (Saint Luke Hospital School of Nursing, Spokane, Washington, 1942) had worked in obstetrical nursing after finishing nurses training. Eight months later she entered the military and was assigned to Fort George Wright in Spokane, where she had charge of a women's outpatient clinic until she was accepted for flight nurse training at Bowman Field. Frances graduated from the flight nurse course on 21 January 1944 and with Jenny Boyle, Brooxie Mowrey, and Louise Anthony was assigned to the 816 MAES for duty in England prior to D Day. Frances was featured on the front cover of Air Force magazine in October 1944 after magazine staff spotted her in a hotel lobby on a layover in New York City from a flight that had originated in Prestwick, Scotland.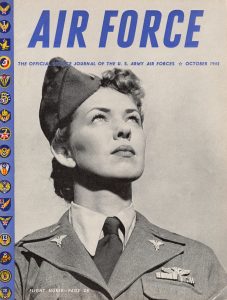 Covergirl Frances Sandstrom. (Author's Private Collection)
My interview with Frances – the last of my interviews – was a serendipitous one. Hilda Chamberlain, whom I had interviewed earlier in the day in Spokane, WA had told her friend Frances, who lived nearby, about the interview prior to my arrival. Frances, who had flown as a flight nurse in Europe during World War II, said that she'd like to be interviewed, too. So I drove to Frances's house that afternoon for one last interview. Having had one such request to be interviewed fall through, I was delighted that Frances was true to her word. Chatty and enthusiastic about her time as a flight nurse, with minimal guidance needed, Frances would have talked for hours had I not stuck to my two-hour time frame. Afterward, Frances and her husband treated me to a casual meal – a most pleasant way to end my interviews of World War II flight nurses. Frances died on 11 February 2006 at age 85.
To listen to my interview with Frances Crabtree, click on the link:
https://www.iwm.org.uk/collections/item/object/80011368
Interviewed 21 June 1986, Spokane, WA
Learn more about my interview with Frances on the Blog for 18 Dec 2016.