The Seventeenth in a series of Blogs about the 31 Medical Air Evacuation
Transport Squadrons activated during WW2
to provide inflight nursing care to sick and wounded soldiers,
tended by Army flight nurses and enlisted technicians.
The focus is on the flight nurses.
The 806 MAETS Arrives in England
Activated December 1942
When the 806 MAETS arrived in Liverpool in July 1943, they were the first of 10 MAETS to set foot in England in preparation for D Day. With that momentous day still in the planning stages, the squadron was left with little to do while awaiting their mission of air evacuation. Asked how the squadron personnel spent their time in the interim when there were no flights to make, chief nurse Grace Dunnam Wichtendahl remembered bivouacs and training in Arctic survival. How busy a squadron kept, she continued, depended on the commanding officer and the administrative officer. The 806 MAETS commander "kept us busy" with practice in "plane-loading, plane-loading, plane-loading" and "marching, marching, marching". 1 They followed a daily schedule similar to the one at Bowman Field, KY for training, with road marches every other day. Squadron personnel also operated the station sick quarters and gave plane–loading demonstrations and lectures at the American School Center operated by the Army at Shrivenham, Berkshire.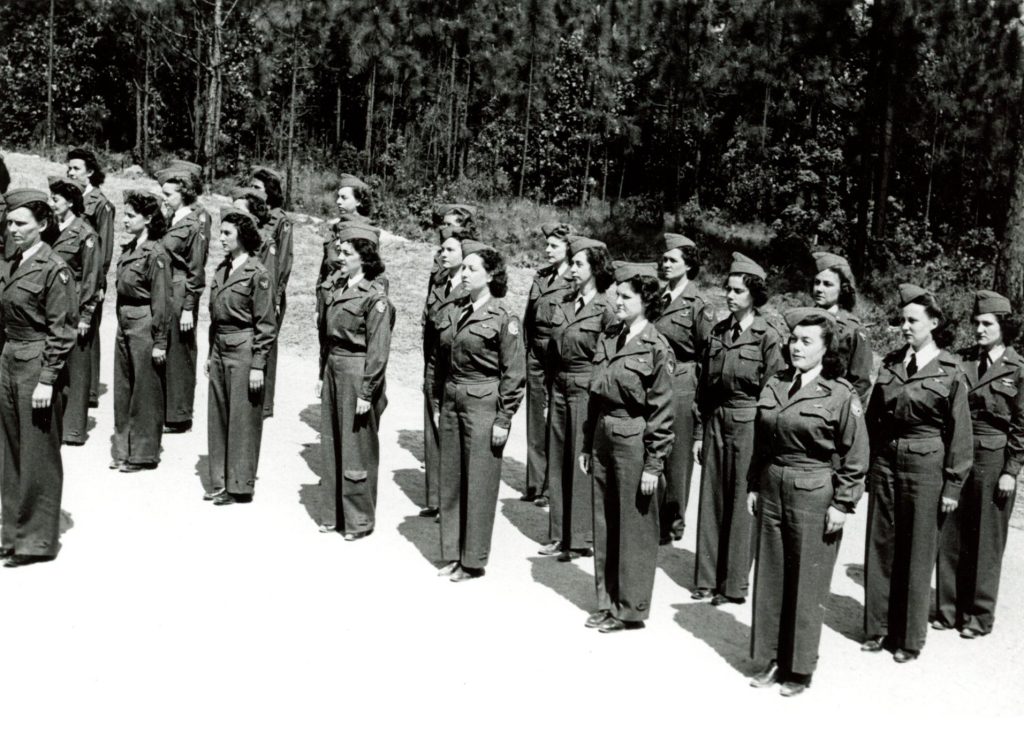 806 MAETS chief nurse Grace Dunnam (far left, front) and flight nurses
on Maneuvers, Bowman Field, KY, May 1943 (USAF Photo)
Like Flight D of the 805 MAETS, while still at Bowman Field, a Flight from the 806 MAETS was sent on Temporary Duty to Dunnellon, FL in February 1943 to provide air evacuation support for the AAF School of Applied Tactics and its mission of training air crews for overseas air warfare. When not flying, the flight nurses and enlisted technicians worked in the Dunnellon dispensary. Once overseas themselves, the 806 MAETS continued their own training in preparation for their duties in support of Operation Overlord. In the interim, the squadron made the first transatlantic flight with patients from the European Theater of Operations to the US in November 1943, and the next month began evacuating patients from Maghaberry, Northern Ireland to England. The squadron also sent flight nurse / enlisted technician teams to bomber bases for further training and observation of casualties, where they assisted with daily sick call and attended post-mission interrogations. Later MAETS continued the Temporary Duty at bomber bases. April 1944 marked the beginning of 806 MAETS work on ATC flights when they evacuated patients from Prestwick, Scotland to the US.
D Day arrived at last, and on 11 June, chief nurse Grace Dunnam made "the first authorized evacuation trip to France" and returned with 18 wounded patients. "Our greatest opportunity came after the invasion and in the immediate months to follow when nurses flew 2 to 3 missions a day," the 806 MAETS historian wrote. 2 Reflecting on her first trip to Normandy, Dunnam Wichtendahl remarked that everyone has a few moments in their life when they prove themselves. This was her moment. 3
The 806 MAETS evacuated 4,440 patients from France in June, and by the end of August, the total had risen to over 20,000. Flight nurses and enlisted technicians from the 810 MAETS also stationed in England were sent on Temporary Duty to the 806 MAETS twice to increase the number of teams available for air evacuation missions into France. 4
In August 1944 the 806 MAES moved from their base at Grove Berkshire to Prestwick, Scotland, where for 4 months they were attached to ATC and began organized air evacuation of patients back to the US. In early December the squadron moved again, in a permanent change of station (PCS) to Orly Field near Paris and made the first evacuation of wounded American soldiers from France to the US via the Azores. The 806 MAES, like other squadrons, crossed the English Channel in both directions for assignments in France and back in England more than once during the war as the need arose to place them in locations where the demand for air evacuation was greatest. Welford Park Berkshire (#474), Grove Berkshire (#519) in England, Prestwick in Scotland (#500), and Orly Field (A-47) and Pouilly le Fort (A-55) in France were all homes for the squadron at some point.
When alerted for the squadron's PCS to the Continent in February 1945, the 806 MAES historian wrote, "All the nurses got in the 'Mood to Move', which is a traditional ceremony dating from November 1943, and occurring just before each new move. Strictly a Sq affair, it sometimes includes other personnel in the informal party and for some this is the tenth (10th) Celebration." 5
Flight nurse Winna Foley Tierney offered more detail on the event:
This move made necessary our tenth "Mood to Move" Ceremony – a toast to mobility and mellow fellowship. Strictly a squadron affair, attended by all the faithful, it was carried on (and on!) with great dignity and solemnity – with a small libation from time to time! This was followed by the writing of the Round Robin Letter to some lucky guy who usually spent the next few days trying to read it. 6
In March 1945 the 806 MAES participated in mass air evacuation missions that used 73 planes to fly patients from the east and west banks of the Rhine River in Germany to Paris and Rheims. In April the squadron evacuated 17,287 patients from air strips in Germany to France and England using 718 personnel in 718 planes, setting a new world record for air evacuation. 7 "This was more patients than had ever been evacuated in one month by any squadron in any Theatre of Operations," wrote Foley Tierney. 8
That same month 806 MAES flight nurse death Dorothy "Dotty" Vinsant was killed when the plane on which she was traveling to pick up a load of patients crashed near Mulhausen Germany on a combat resupply mission. Vinsant, who apparently had flown her allotted number of combat missions, allegedly talked her commander into letting her fly one more. It was her last. 9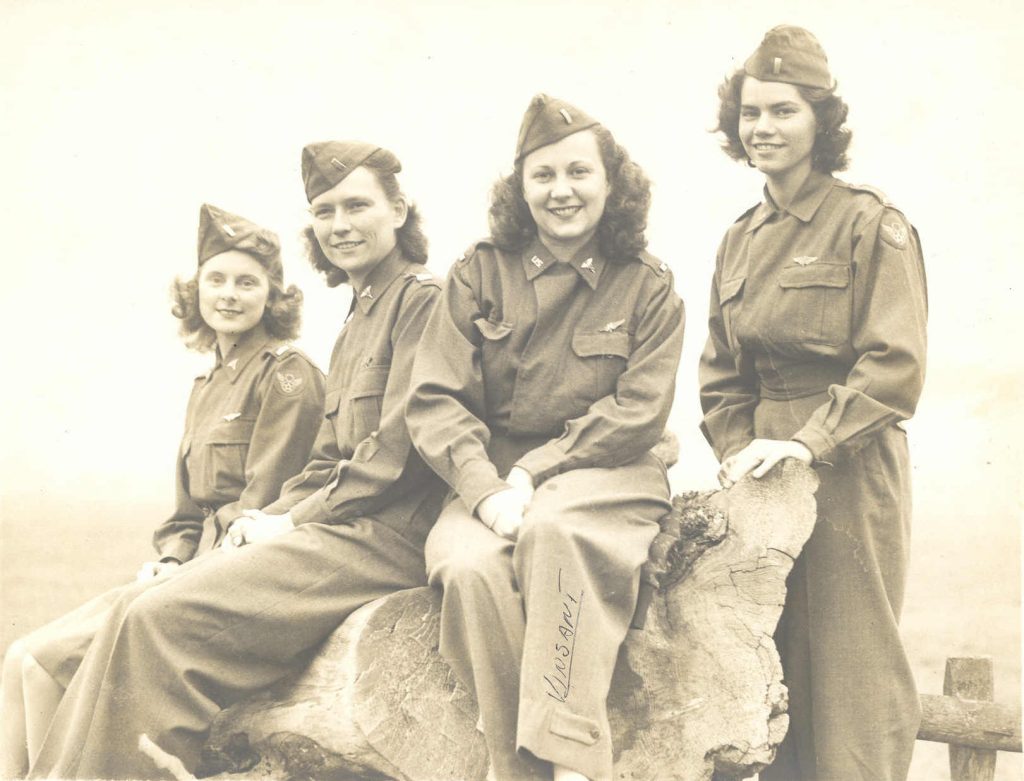 806 MAETS flight nurses (left to right) Anna Ranahan, Grace Dunnam,
Dolly Vinsant, and Winna Jean Foley, circa 1943 (USAF Photo)
April 1945 brought a happier occasion when the 806 MAES celebrated the marriage of flight nurse Geraldine Dishroon to pilot William Brier in a ceremony in the living room of the nurses' quarters in Le Pouilly le Fort, France. 7 As the honor graduate of the first class of flight nurses at the School of Air Evacuation in Bowman Field, graduation speaker General David Grant had removed his gold flight surgeon's wings and given them to Dishroon. When telling the story years later, Dishroon's chief nurse laughed and said that Jerry was bright, but they always thought it was just because Jerry happened to be standing there at the time Grant decided to do it. 10 Be that as it may, Dishroon received the first flight nurse wings.
Geraldine Dishroon (left) wearing first flight nurse wings,
18 February 1943 (USAF Photo)
The nurses of the 806 MAES were constantly reminded – "always reminded of it" – that they were proving flight nursing and air evacuation. They were the first, wrote Foley Tierney on the squadron's twenty-fifth anniversary:
All of us during our tour so far had been constantly reminded of our need to prove Air Evac. It was really a pioneering job we were doing, and along with a squadron in Africa and one in the Pacific, we were establishing a new concept in medical history. The problems which we had studied in theory, and some no one ever mentioned!, were now to be faced in reality and by each as an individual.
Air evac is so completely accepted today and so vital a part of good medical care that it is difficult to believe its value was ever doubted, but as we all knew – it was. And we were among the Early Birds! 11
The 806 MAES was the first squadron sent to Europe and last squadron remaining in Europe after the war ended when in autumn and winter of 1945–1946, it was stationed at Villacoublay Airdrome, Paris and flew special missions aboard troop carrier planes. 12
For more about the 806 MAES, see Beyond the Call of Duty: Army Flight Nursing in World War II. To read more about Grace Dunnam Wichtendahl, see Blogs posted for 26 Jun 2015 and 10 Nov 2019.
Notes
Grace Dunnam Wichtendahl, interview with author, 29 Mar 1986.

"806th (US) Medical Air Evacuation Squadron", 17 Jul 1943 – Dec 1945; "806th Medical, Air Evacuation Transport, Squadron", Jun 1944, 2. [AFHRA MED–806–HI]

"History 806th Medical, Air Evacuation, Transport Squadron", Jun 1944, 2; Dunnam Wichtendahl, interview with author.

"806th Medical, Air Evacuation Transport, Squadron", Aug 1944, 3.

"History 806th (US) Medical Air Evacuation Squadron", Feb 1945, 4.

"Historical Data 806th (US) Medical Air Evacuation Squadron April 1945", 4 Apr 1945, 2.

[Winna Foley Tierney], "History of the 806th Medical Air Evacuation Squadron (on the Occasion of Our 25th Anniversary)", San Antonio, TX, Sep 1968, 4–5.

"Historical Data, 806th (US) Medical Air Evacuation Squadron, April 1945", 3 May 1945, 2; "806th (US) Medical Air Evacuation Squadron", 17 Jul 1943 – Dec 1945.

"Historical Data, 806th (US) Medical Air Evacuation Squadron, April 1945", 3 May 1945, 2; The Handbook of Texas Online, https://www.tshaonline.org/handbook/entries/shea-wilma-vinsant-dolly

Dunnam Wichtendah l, interview with author.

[Tierney], "History of the 806th Medical Air Evacuation Squadron", 3.

Robert F. Futrell, Development of Aeromedical Evacuation in the USAF, 1909–1960, Historical Studies No. 23 (Maxwell AFB, AL: USAF Historical Division, Research Studies Institute, Air University; Manhattan, KS: Military Affairs / Aerospace Historian, 1960), 489.